The Ultimate Guide to the Best Roller Skates on the market for outdoors, the rink, and in the skate park.
We independently selected all products in the Ultimate Guide to the Best Roller Skates. We may earn a commission through affiliate programs if you click our links.
Buyers Guide: Ultimate Guide to the Best Roller Skates of 2023
Updated Mar 23, 2023, 7:41 PM EST
---
The Buyers Guide section of bigwheelblading.com, provides everything you need to make informed purchases online.
There are many roller skate options out there, and researching and finding a skate that best suits your needs can be overwhelming. Having been in the skating industry for 27 years, I'm very familiar with what is out there. To save you time and frustration, I have curated a list of the best roller skates available from the major brands within the industry. This guide is a living article and will be continuously updated and modified.
The best Roller Skates
We have compiled a list of the 29 Best Roller Skates of 2023 below, but if you are in a time crunch and want to hear 10 of our favorites, here they are!
Browse by Skate Type
Further Reading
Still with us? Great! Let's review our list of the best roller skates.
The Best Roller Skates For outdoors
Moxi Rainbow Rider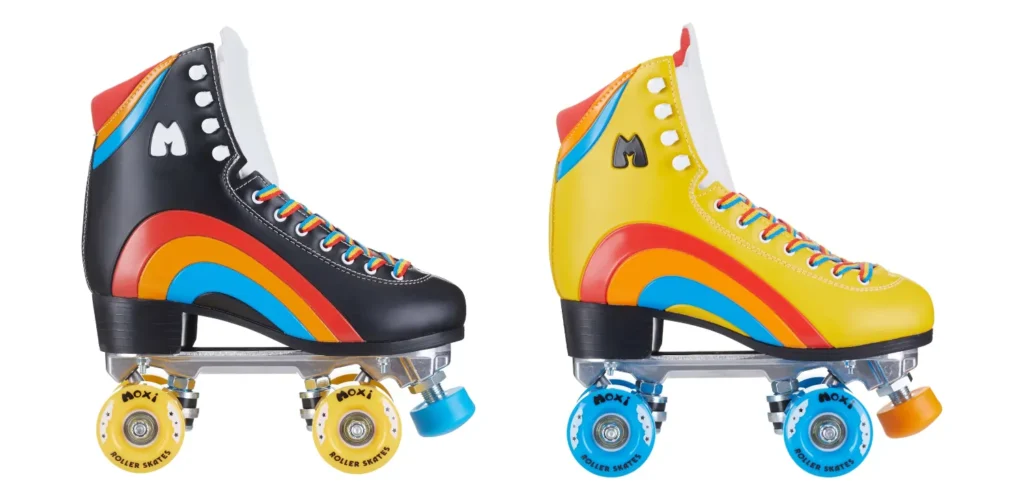 The Moxi Rainbow Rider is the ideal skate for beginner recreational skaters looking for a high-quality and comfortable outdoor roller skate at an affordable price. The rainbow-themed boot has vinyl uppers and a soft padded, comfortable, and supportive lining. A durable die-cast aluminum plate is attached to the boot with soft 58mm 82A outdoor wheels, ABEC-5 bearings, and an adjustable toe stop to ensure a smooth, cruiser-friendly ride. Brimming with attention to detail and thoughtful touches, the Rainbow Rider is an undeniable value for the beginning or casual outdoor skater. It will leave you feeling like you are gliding along rainbows!
Chaya Vintage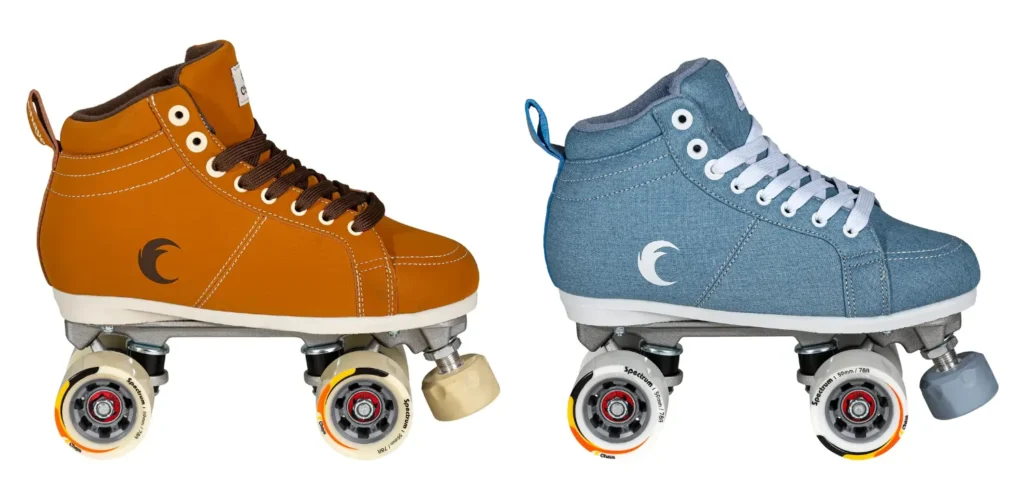 The Chaya Vintage is a vegan-friendly line of roller skates with aluminum frames and trucks. The Galaxy Evo plate has an adjustable Chaya Controller toe stop and a set of 59mm 78A Chaya Spectrum wheels ideal for cruising outdoors or if you need a slower start at indoor skating. The exterior is glass-fiber reinforced plastic with PU-nubuck faux leather. The interior has a built-in breathable mesh liner making these extra comfy skates.
Moxi Beach Bunny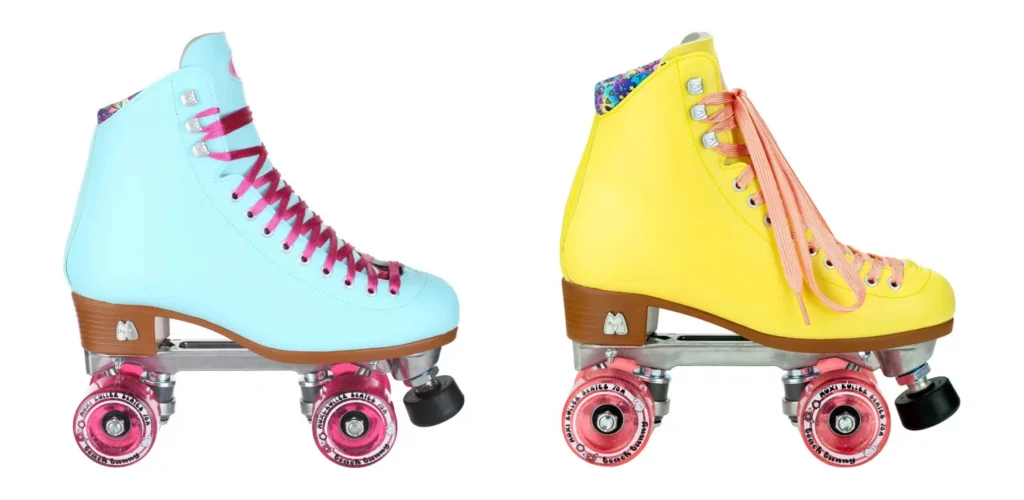 Moxi Beach Bunny Skates offer an affordable price tag and animal-friendly construction, providing stress-free recreational skating. Drum-dyed vinyl uppers pop in the sunlight, and the custom-printed Dri-Lex moisture-wicking liner inside is convenient and comfortable. The boot comes mounted with a Die-Cast Aluminum base, and trucks with 58mm 72A Wheels and ABEC 3 bearings.
BTFL Classic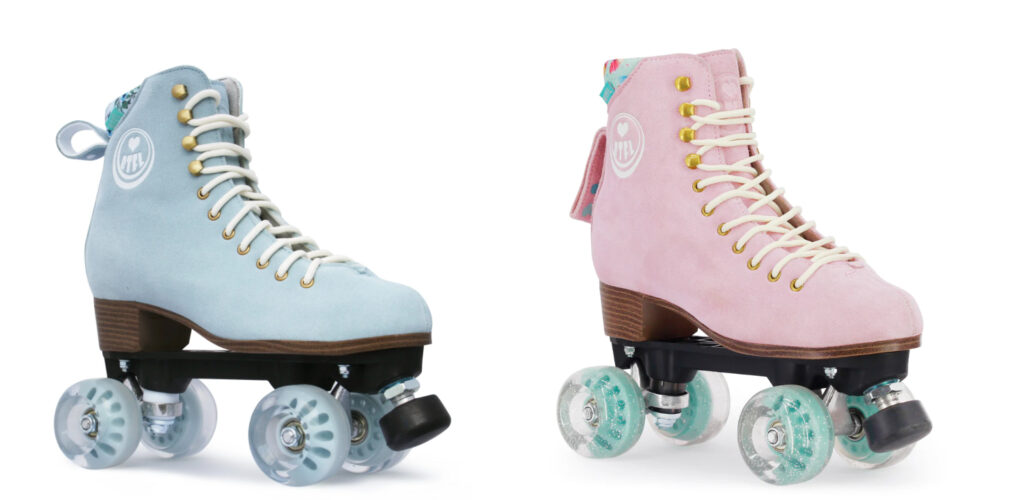 The BTFL Classic Unisex Artistic Roller Skates are a high-quality, affordable retro roller skate designed in Germany. These are the ideal skates for adults who want to do recreational, rink, boardwalk, or street skating. The BTFL Classic skates are made with foam-backed genuine suede that provides comfort and support during your skate sessions. They feature an adjustable toe stop and a lightweight nylon plate that provides a smoother ride and absorbs vibrations. The 62x38mm 80A hybrid indoor/outdoor round edge wheels are great for artistic, jam, and rhythm skating. The BFTL Classic Artistic roller skates are available in five color variations and multiple sizes. This is an unbelievable price for an all-leather skate, placing it on our 17 Best Quad Roller Skates for Kids and Teens list.
Jackson Finesse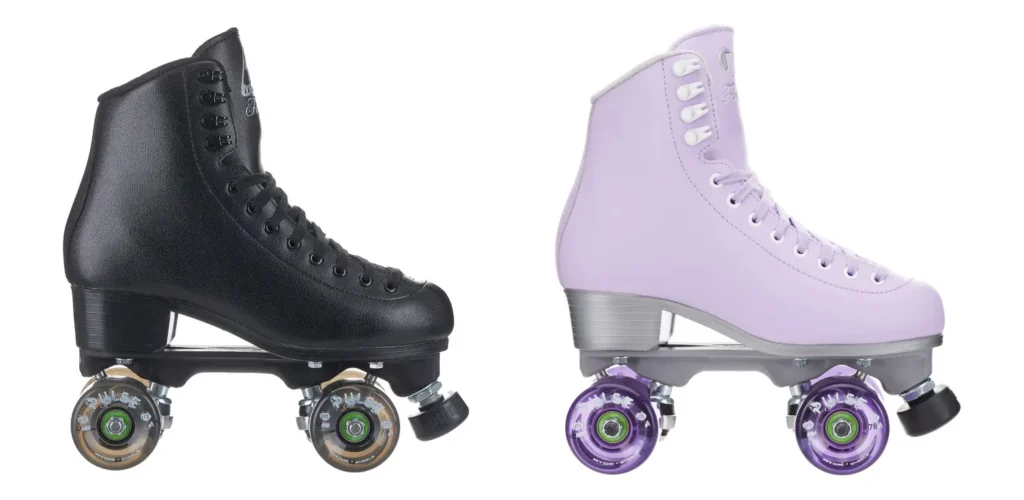 Jackson Finesse Skates is a vegan-friendly option for fun-seeking outdoor skaters. The Finesse Boot is constructed with reinforced vinyl-coated uppers and has memory foam padding inside with an antibacterial lining. It is mounted to a nylon Pilot Viper Plate with 62mm 78A Atom Pulse Lite Wheels, Bionic ABEC 7 Bearings, and an adjustable XS Toe Stop.
Sure-Grip Stardust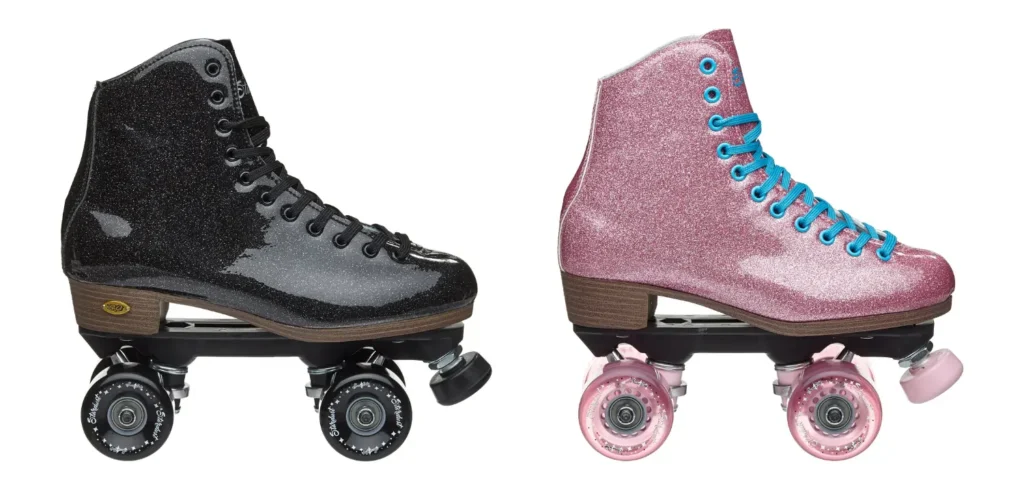 Sure-Grip Stardust Skates take you from the streets to the rinks while turning heads the whole way. The stiff vinyl uppers provide lots of support and, of course, an eye-catching glitter imprint that is available in three different colors. Blue and Pink feature contrasting laces and eyelets, while Black does its best impression of the starry night sky, keeping all components black. Cushions, wheels, and toe stops on all Stardust Skates will match the color of the vinyl uppers. The soft urethane of the 62mm wheels is best suited for the great outdoors but is also perfectly serviceable in a rink setting!
Jackson Vista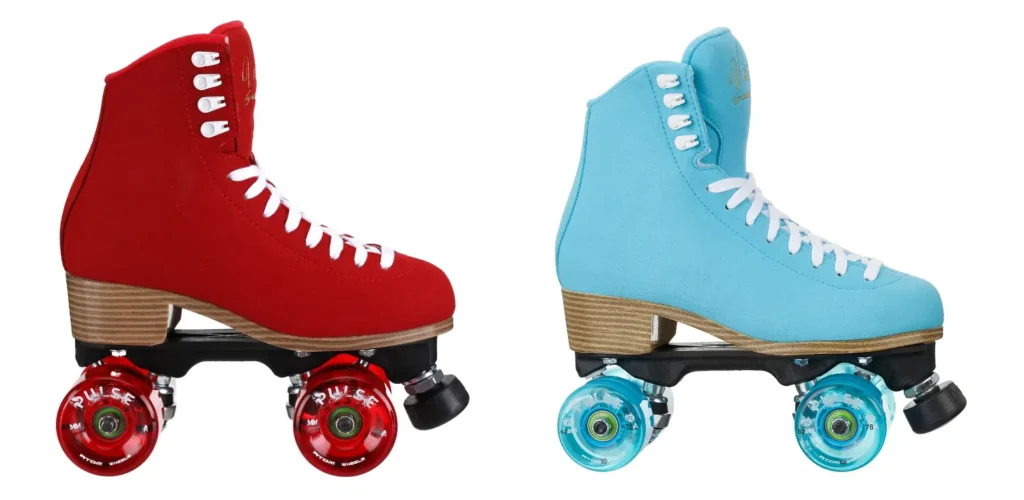 Jackson Vista Viper Nylon Skates are stylish and affordable recreational outdoor skates with lightweight nylon plates. The Vista Boot is a sturdy high-top with a PVC outsole, built from suede microfiber and reinforced with leatherboard to enhance support, security, and durability. Memory foam padding around the ankle relieves pressure points, as does the foam-backed tongue that reduces lace bite and other forefoot discomforts. The fit is friendly and comfortable for first-time skaters and long-time rollers! Underneath the Viper Nylon Plate is 62mm 78A Atom Pulse Wheels, soft enough to grip any outdoor surface and smooth enough to roll over debris and imperfections in your way. Inside the wheels, you will find Bionic ABEC-7 bearings.
Sure-Grip Boardwalk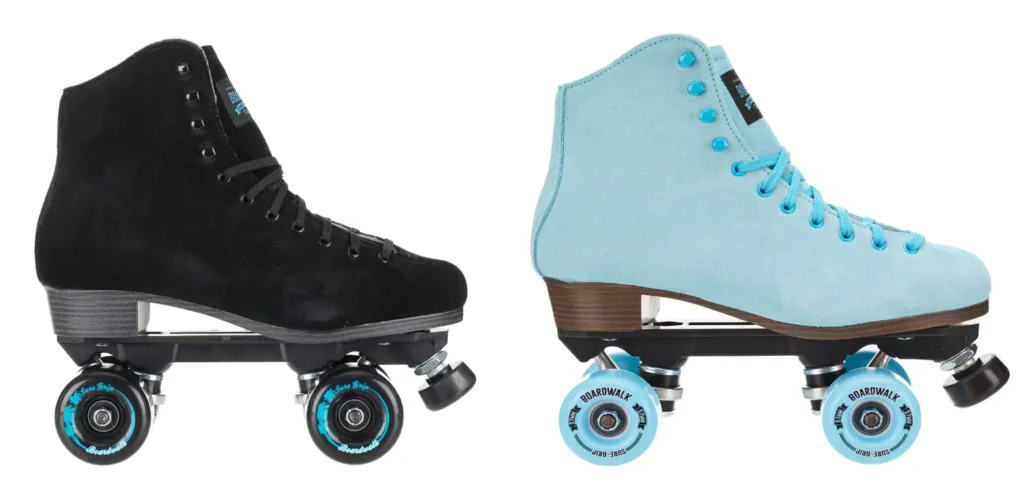 Sure-Grip Boardwalk Skates are classic suede high-tops that provide a comfortable and supportive ride for anyone looking to cruise the great outdoors. The boots got a makeover in 2021, offering fresh pastel colorways but maintaining the soft and pliable suede construction that makes them such a joy. The lightweight nylon plate has double-action trucks and a fully adjustable toe stop so each skater can adjust their braking preferences. Color-matched Boardwalk Wheels add to the eye-catching style while providing a smooth ride and plenty of grip.
Riedell Crew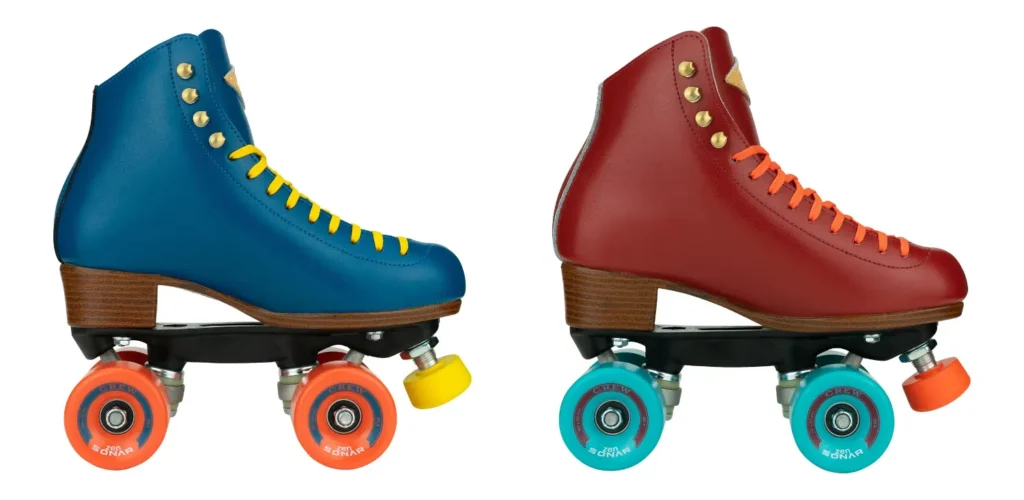 Riedell Crew Outdoor Skates are traditional in design and feel but made for modern skaters who find their fun in the great outdoors. Whether on the boardwalk, in the streets, on the trails, or at the park, the Crew is a perfect outdoor roller skate. Riedell started with their classic 120 leather boot and gave it a touch of contemporary flair, then contrasted and color-matched the laces and toe stop to make it all pop. The 120 boot has a comfortable moisture-wicking lining called Dri-Lex and was designed with reinforced quarters that support jumps, spins, and various dance moves. The lightweight PowerDyne Thrust nylon plate houses 62mm 85A Sonar Zen wheels that spin on ABEC-5 bearings and an adjustable round toe stop.
Chuffed Wanderer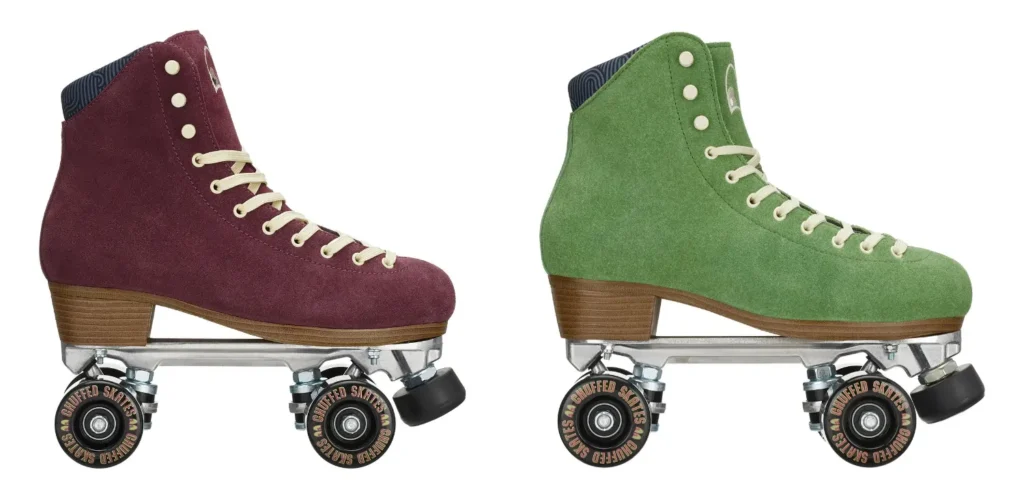 The Chuffed Wanderer Skates are comfy, strong, and beautiful! They have excellent details and are made for any skater looking to wander around on wheels in the streets or the park in style. They have aluminum alloy plates, eyelets, and trucks, making them sturdy and reliable. The uppers are made of suede leather except for the vegan black skates, which have microfibre uppers. Inside, the boots have built-in liners with a cool-lined print and ample foam padding. They have cushioned insoles that can help prevent injuries from harsh landings. A cushioned tongue with their embroidered logo on the front, the eyes that are always watching. Underneath, their stock wheels come in black at 58mm and 82A hardness with ABEC7 bearings that allow them to spin freely.
Moxi Lolly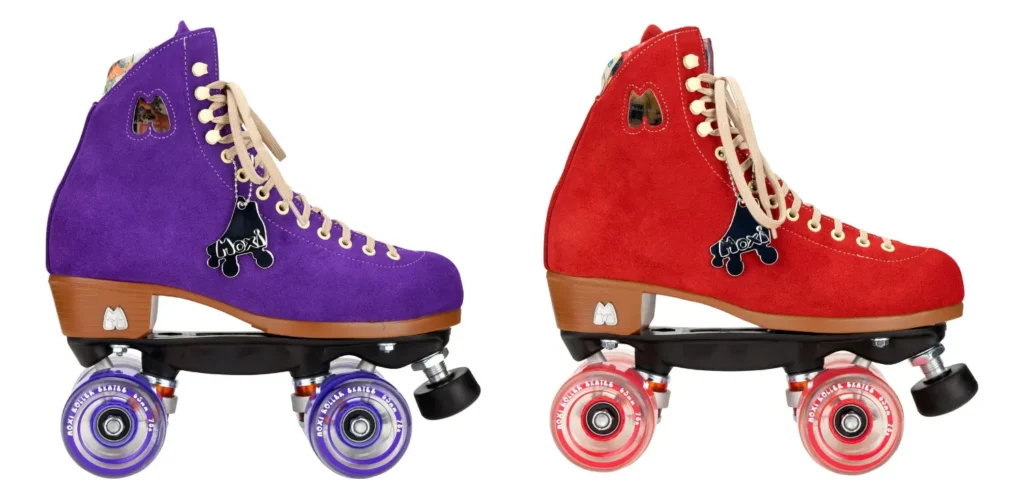 Moxi Lolly Skates are the epitome of style for lifestyle skates, perfectly designed for recreational and street skating. The Lolly Boot is made with soft, foam-backed suede, giving it a comfortable and form-hugging fit that only improves over time as the leather breaks in. Underneath, a lightweight plastic Powerdyne Thrust Plate will help absorb vibrations and create a smoother ride, mounted with soft 65mm 78A Moxi Classic Wheels and ABEC-5 bearings.
---
The Best Roller Skates For Derby
Crazy Zoom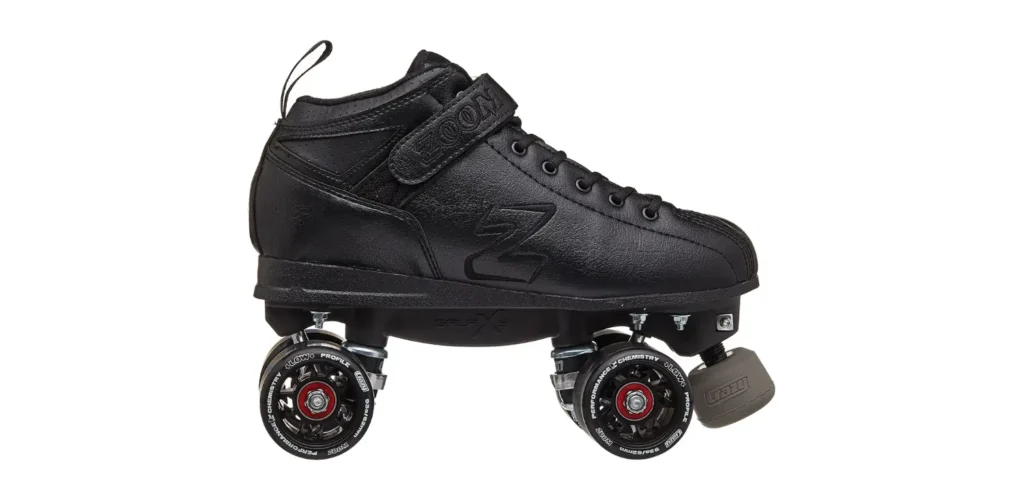 Crazy Zoom Skates are entry-level speed skates with a wide, accommodating fit that is well-padded to promote a comfortable, beginner-friendly experience. The Galaxy Plate is a 20° composite nylon plate infused with fiber strands to improve rigidity and durability. Best of all, it has an allen key set screw to secure the fantastic Boost Toe Stop without worrying about a pesky nut and washer. Signature 62mm 93A Zoom Wheels offer excellent grip for digging into fast turns and deep crossovers.
Riedell R3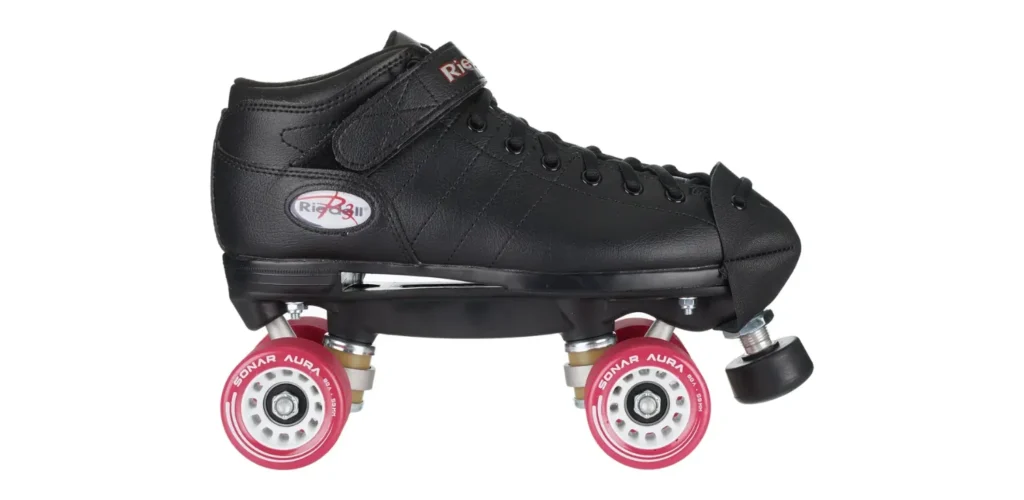 Riedell R3 Derby Skates are the perfect setup to get started in Derby. A favorite with skaters year after year for its outstanding comfort, class-leading build quality, and undeniable value, the R3 Derby has been upgraded with standard black tough scuff leather toe caps to prevent abrasion on the boots and 59mm 88A Sonar Aura Wheels. The Riedell R3 Derby Skate will also come with lightweight nylon Powerdyne Thrust plate and ABEC 5 bearings. The R3 Derby offers quality and value that simply can't be matched.
Bont Prostar Prodigy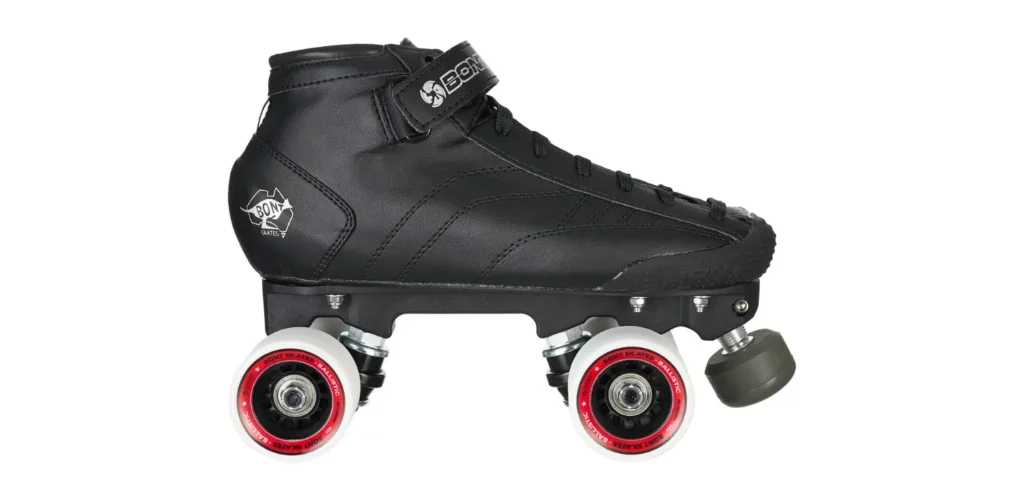 Bont Prostar Skates make an outstanding choice as a first pair of skates due to the relatively affordable price tag, their significant performance advantage over typical entry-level skates, and the advanced features that improve quality of life. The Prostar Boots are heat moldable and introduce users to the famous Bont fit that's snug, comfortable, and responsive. Prodigy Plates are fiberglass reinforced plastic, which saves weight and dollars, but feature lock screws for toe stops that solves the #1 problem of entry-level skates (losing toe stops). Upgrading to the Tracer Plate offers a heavier aluminum plate with better power transfer. Both sets have 60mm 92A Ballistic Wheels, ABEC 5 Bearings, and an adjustable round-toe stop.
Jackson VIP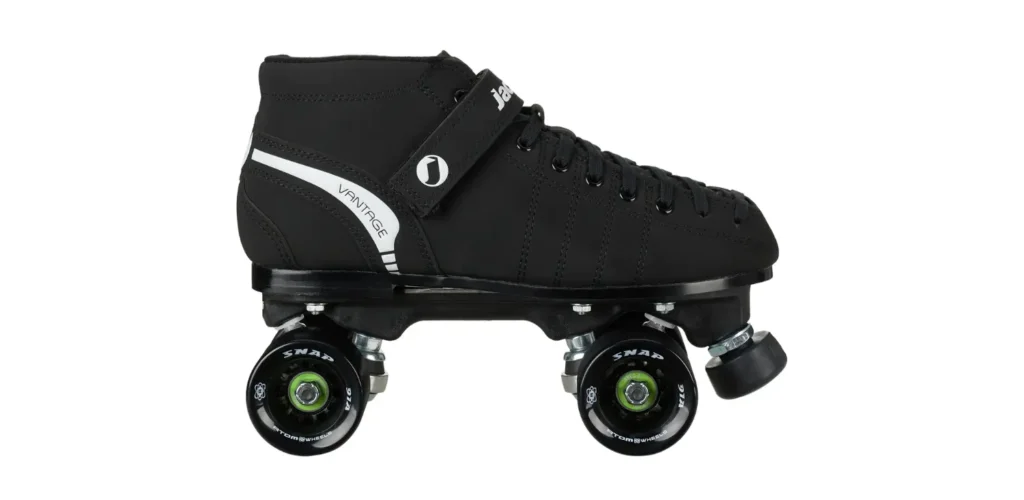 Jackson VIP Skates is a great package for beginners to roller derby or those looking to upgrade their first pair of skates without breaking the bank. The Vantage boot offers more performance than lower-end vinyl boots with its microfiber construction and comfortable fabric lining. The Pilot Viper plate uses reinforced nylon for rigidity, durability, and stability. Atom 60mm 91A Wheels spin on Bionic ABEC-7 bearings and are fantastic for slick and outdoor surfaces.
Sure Grip Rebel Avanti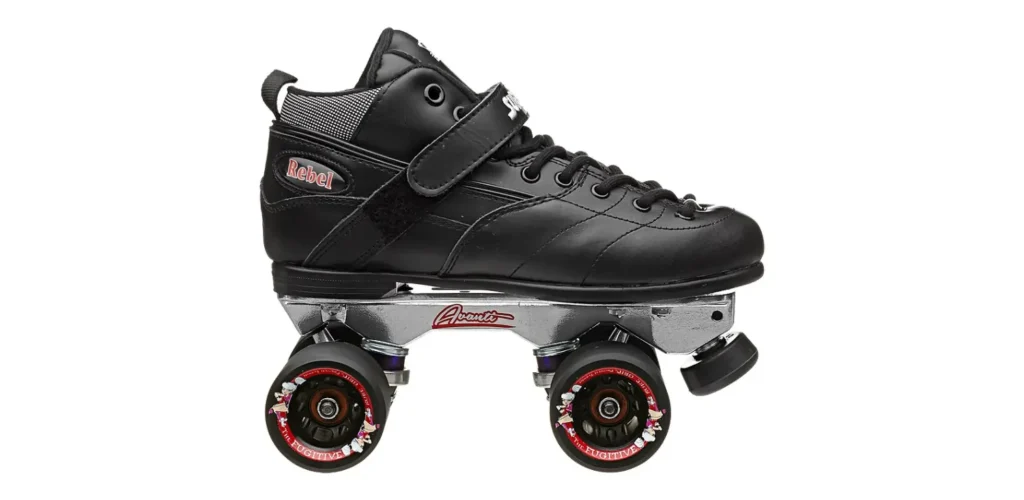 The Rebel Avanti Aluminum Skate package by Sure-Grip is a highly affordable offering that includes a leather boot & aluminum alloy plate. The proven and popular Rebel boot is paired with Sure-Grip's next generation of plates – the Avanti Aluminum. The Avanti is both lightweight and very strong, with a traditional 10° steel kingpin and sleek polished finish. Set with a Carrera speed stop and 92A Fugitive wheels.
Roller Derby Elite Legacy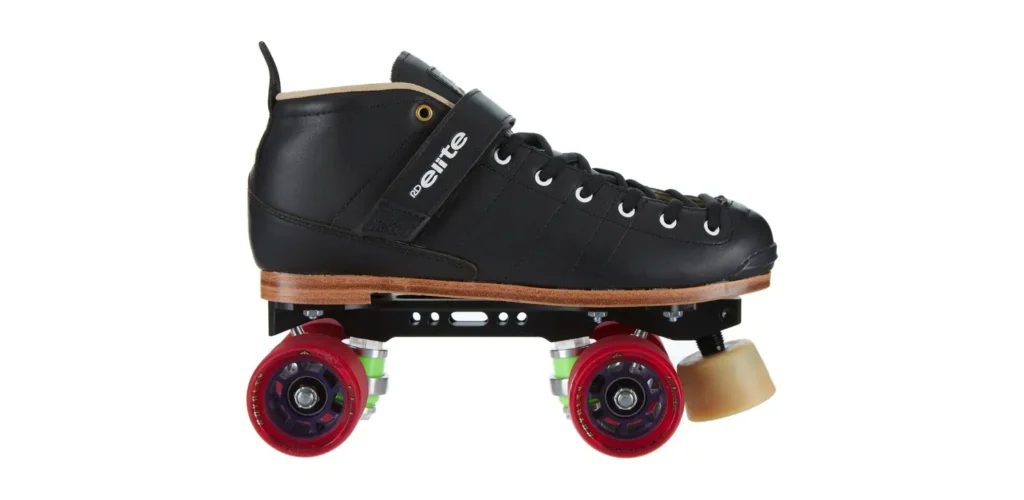 The Roller Derby Elite Legacy Skates are an excellent setup for skaters seeking elite performance capabilities in comfortable leather boots. This package is available with two different RD Elite plates, and both are machined from a lightweight but robust magnesium alloy; the 10-degree Pro Octane and the actual 45-degree Axis 45. The Octane plate offers dependable stability and power, while the Axis 45 plate is an ultra-responsive plate that some advanced skaters may prefer. If you're unsure which one is right for you, we recommend going with the Octane.
Elsewhere, all components are the same between models. The Legacy boot on top has full-grain leather construction in its upper panels and a stitched leather outsole with a small external heel lift. Labeda provides 59mm 91A Royalty wheels that spin on a set of their excellent Swiss bearings, and down at the front, RD Elite has included their world-class Bounce toe stop. Start building your Legacy in these great, high-performance skates!
Riedell Solaris Pro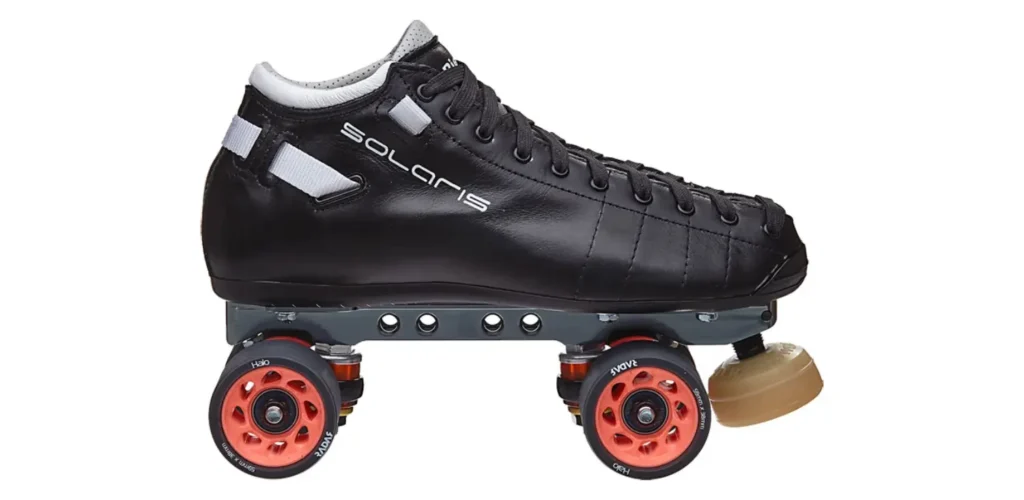 The comfortable, lightweight, and stylish Riedell Solaris is the most technologically advanced quad roller skating boot Riedell has ever produced. They used cutting-edge technology and design to redefine the standards of performance and comfort for quad skating boots. The Solaris utilizes a stiff composite outsole and new ContourFit C/AA last to improve strength, durability, fit, feel, and response.
The ergonomic last follows the natural contours of your foot, placing the toes in a more natural position to enhance comfort, improve balance, and increase performance. The boot mounts to a Reactor Pro Plate that pairs perfectly with the composite outsole to provide a level of performance suited for even the upper echelons of derby competition. Halo Wheels spin on Kwik Zenith Bearings with a Jupiter Toe Stop out front.
Antik Ar2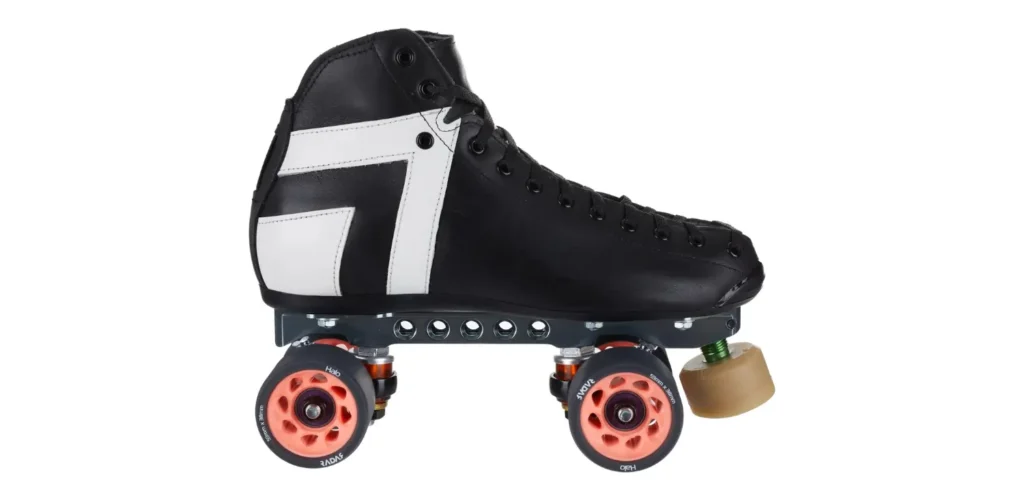 The Antik AR2 Derby Skate is a traditional skate package with some of the best products assembled from Antik's and Riedell's impressive catalog. New in 2019, the AR2 Boot has done the impossible and supplanted the legendary AR1 boot as the flagship offering. Pulling over the same composite outsole technology and moisture-resistant microfiber lining found in the Solaris Boot, the AR2 is undeniably sleek with its signature high top and angular panels (that look great customized). Underneath is a powerful but lightweight Reactor Pro Plate with responsive Magic Cushions, adjustable trucks, and micro-adjustable kingpins. Halo Wheels speak for themselves now; if you don't know their awesomeness by now, ask anyone to testify!
Riedell Solaris Platinum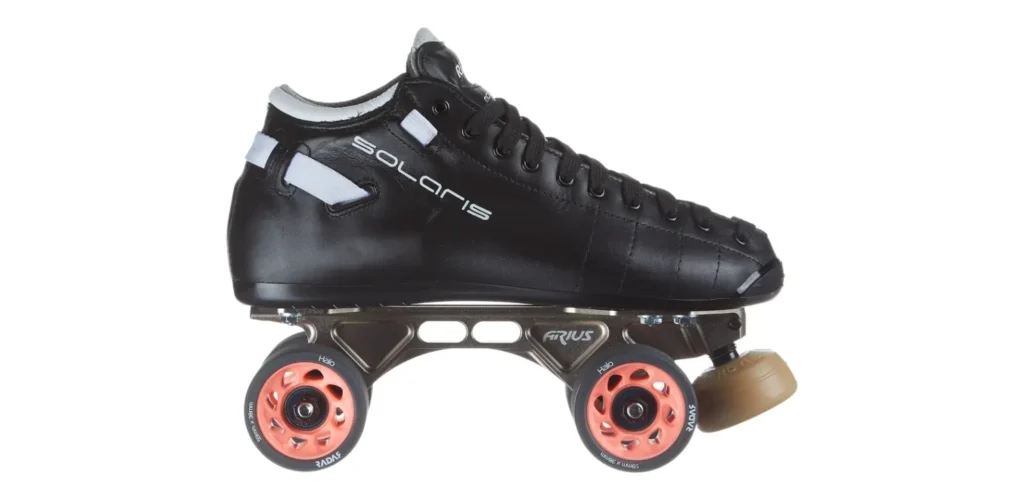 The Riedell Solaris Platinum is a complete setup from Derby Warehouse with an Arius Platinum Plate, providing you with the best Riedell and PowerDyne offers. The package includes Halo Wheels that offer grip when you need grip and slide when you need slide, Zenith Bearings, and a Jupiter Toe Stop.
Riedell Blue Streak Platinum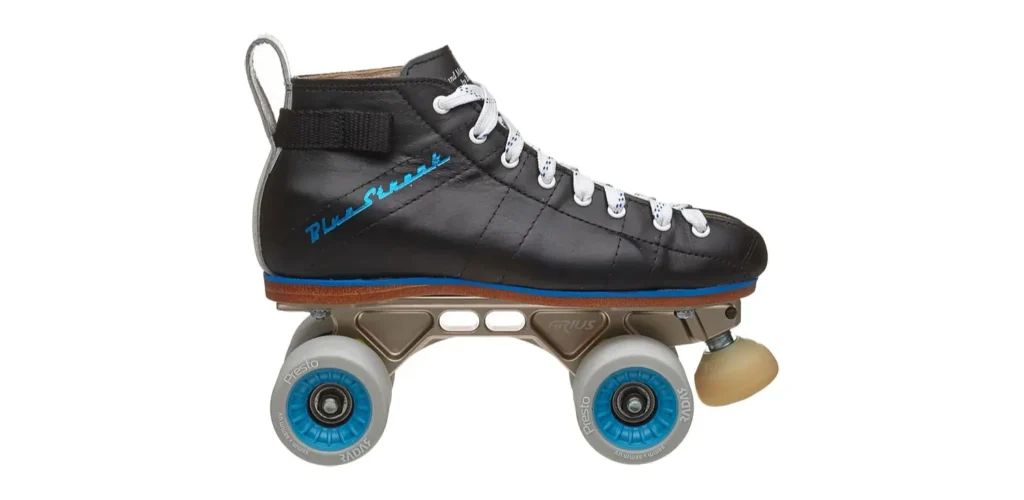 The Riedell Blue Streak Platinum Skate features the Riedell's Blue Streak boot mounted to an updated Arius plate. This combo has been a common sight at the Derby Warehouse custom-built station, prompting them to add it to their stock offerings! The combination of the comfort of Kango-Tan uppers, incredibly soft leather liners, and the extreme performance of the progressive lateral movement in the Arius make this skate like heaven on your feet. Blue Streak Platinum Skates now ship with Radar Halo wheels instead of Presto wheels, as pictured.
---
The Best Rollers Skates For Dance
Riedell Boost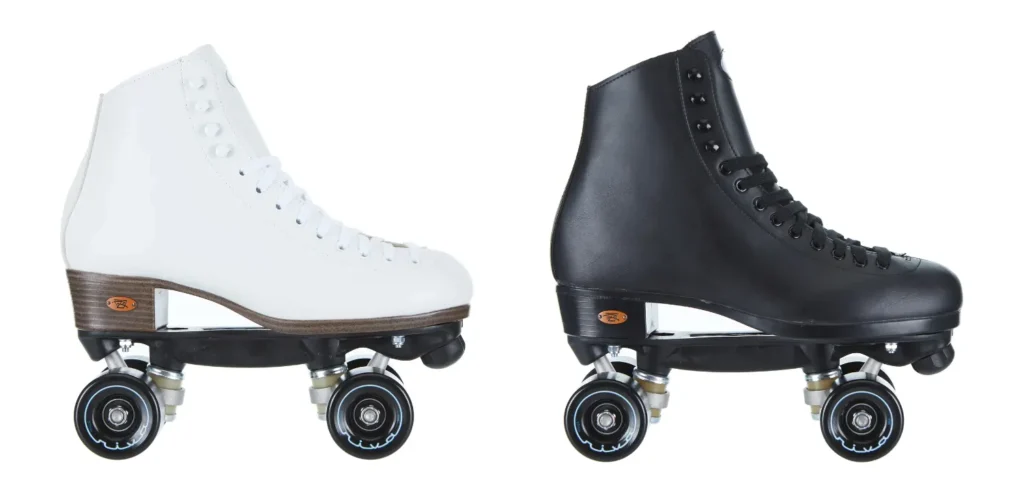 The Riedell Boost Skates are rink-ready and made for dancing with the beginner dance skater in mind. With vinyl uppers that are supportive and soft lining, they require a very brief or no break-in time. Underneath, they have the Powerdyne Thrust plate, which is user-friendly as the nylon reduces the vibrations of the surface, making them great for anyone who's just started skating. They hold a jam plug that won't get in the way of your moves and 57mm 96A Sonar Riva wheels.
Roller Derby Elite Primo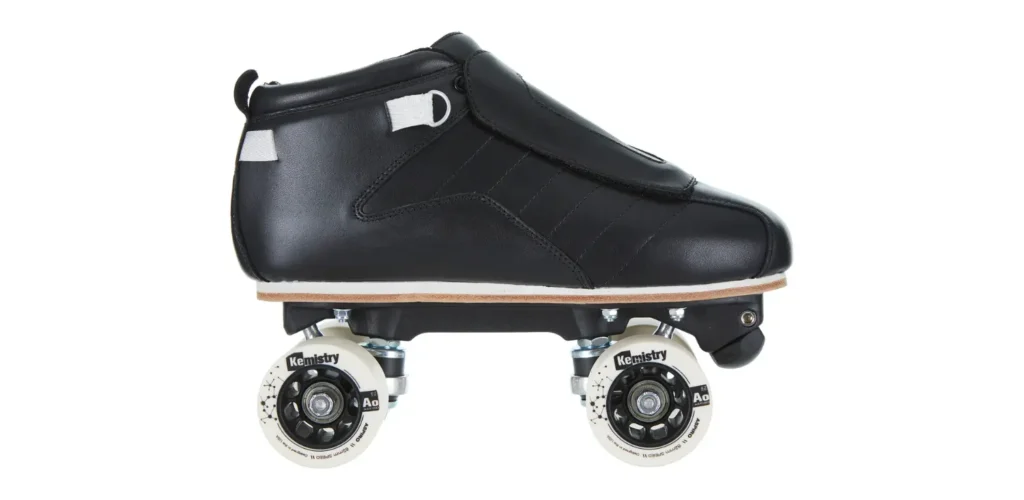 The Roller Derby Elite Primo Skates is a smooth and sleek setup with features destined to make you the star of the local rink, dance floor, and neighborhood. The lace cover gives the Primo a clean aesthetic but keeps your laces tied and tucked out of the way. Lace hooks and a wraparound ankle strap ensure excellent security around your heel and the boot. The inside of the Primo feels great, thanks to the comfortable padded liner with additional padding around the ankles and at the forefront of the boot. There's even a lovely footbed!
Underneath the boot, the leather sole is stitched and attached to lightweight, fiberglass-reinforced composite plates. The plates come with jam plugs installed and will accept any standard 5/8″ toe stop or jam plug. The RD Elite Primo Skate rolls on Kemistry Aspiro 62mm 97A Wheels and Bevo bearings.
Chaya Chameleon High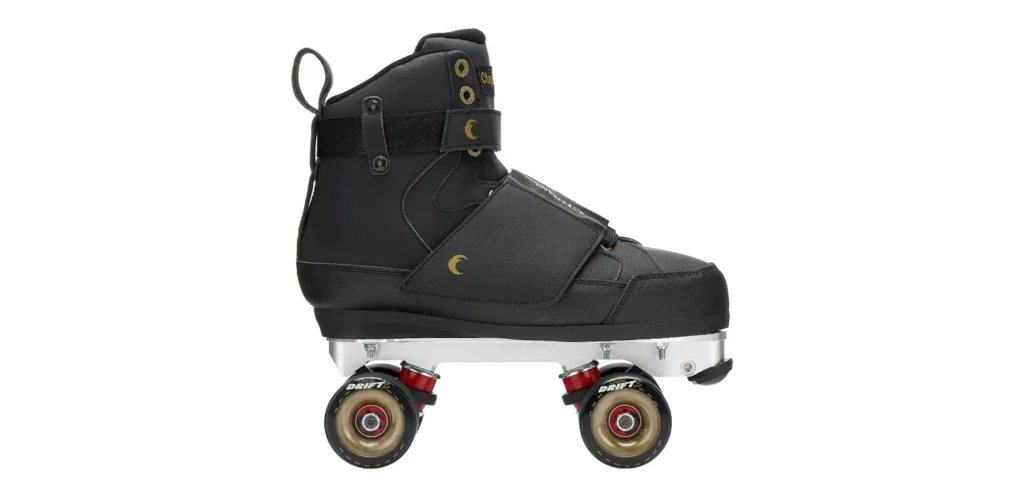 The Chaya Chameleon High Skates are high-cut jam skates that are strong and supportive while staying comfortable and lightweight. They are made with a glass-fiber reinforced composite with genuine and PU leather with plenty of padding within the boot. The Flap'n'Strap system is removable and interchangeable so that you can customize it with different colors, and they come with three extras in red, blue, and gold so that you can start customizing right out the box.
The Chaya Zena plates are made of 6061 aircraft aluminum, making them very precise and robust with excellent energy transfer. The plate is mounted on the Dual Center Mounting System, which uses a bolt underneath each truck and allows you to customize the position of your mounting and offer you an easy way to change out the plates quickly. They also have Chaya Diamond Jam Plugs that are fixed onto the plate with a clamp mechanism. The wheels below are Chaya's Drift wheels, which are 59mm with a 95A hardness and spin freely on ABEC 9 Wicked bearings.
---
The Best Roller Skates For skate parks
Antik Skyhawk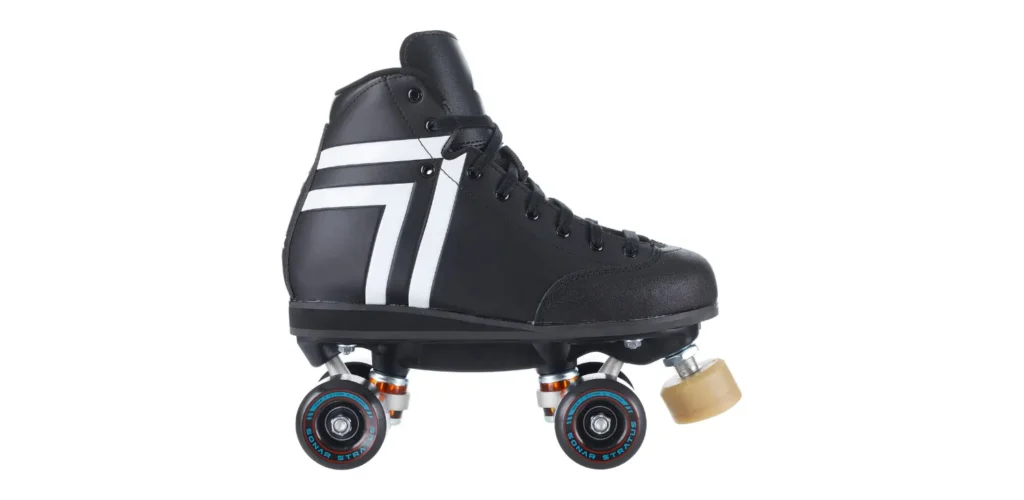 The Antik Skyhawk Park Skate is an excellent way for beginners and intermediate skaters to get into aggressive street skating and impress at the skate parks. The second-generation Skyhawk boot is made from tough microfiber and has an abrasion-resistant toe cap and a shock-absorbing foam wedge built into the heel. This Skyhawk is equipped with ABEC-5 bearings and rolls on Sonar Stratus Wheels, which have a low 57mm profile and a 98A tire. The PowerDyne Thrust Plate is an entry-level nylon plate that is feather-light and comes with high-quality urethane cushions and a Gumball Toe Stop out in front.
Chaya Kismet Barbiepatin Gold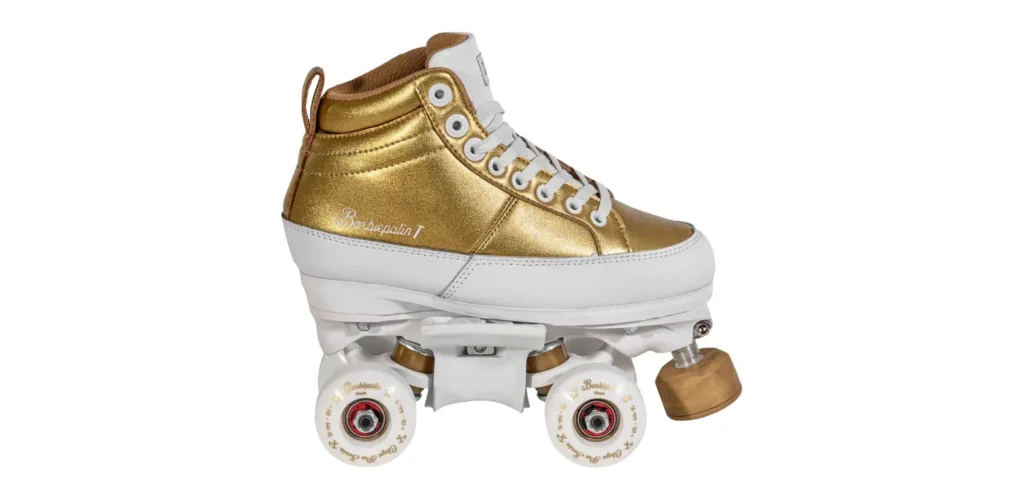 The Chaya Kismet Barbie Patin Gold Skates are the 3rd generation of the Kismet, inspired by one of the most recognized roller skaters in the world, Barbie Luciana. Using Barbie's signature Gold color for a luxurious design, these skates deliver pure park performance for the advanced skater. Still, they are also made affordable for anyone wanting to dip their toe in the skate bowl!
The beautiful mid-cut boot provides incredible comfort for long days at the park while offering the support you need to perform all your tricks and grinds. The Barbie Patin skates come with the Karma grind block, the only asymmetrical grind block on the market. This allows skaters to have two contact points when grinding or stalling for better stability, while the glass-fiber reinforced plastic gives skaters a smooth and fast slide.
Additionally, the Chaya Shari plate features the Power Toe System and Offset Toe Stop. PTS is designed to enhance power, speed, and control, while the Offset Toe Stop helps to give you quicker accelerations and much more effective stopping power. Down low, the 20-degree axles are ideal for skaters wanting the best performance through agility, turns, and power transfer without sacrificing control or stability at high speeds. Mounted on the axles are the Barbie Lu Pro wheels that boast a 101A durometer and Abec 7 bearings for premium glide and are ready to shred right out of the box.
Bont Parkstar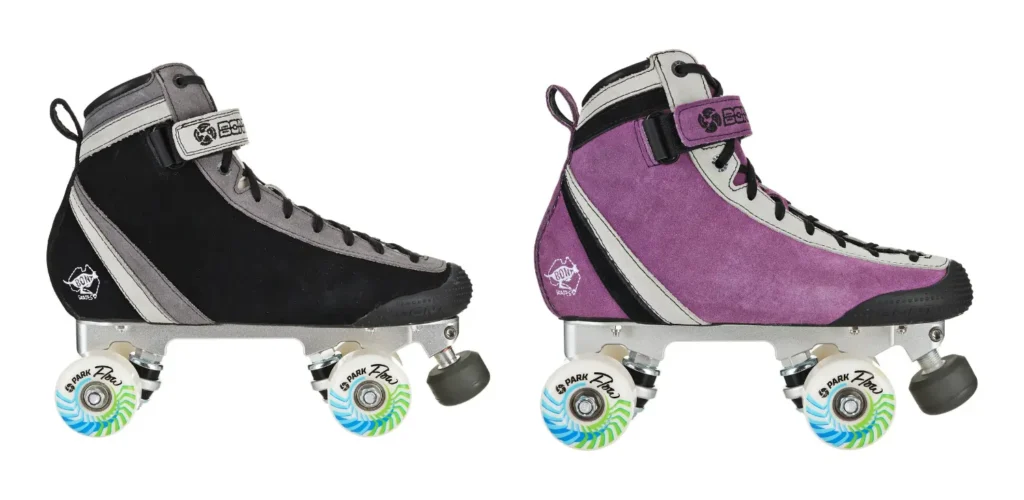 Bont ParkStar Pastel Skates are a fresh take on the ParkStar that offers versatility in the parks and streets, wherever your skating takes you. The ParkStar Boot is the same innovative design with a snug fit and excellent response, now with pastel suede uppers. The fully heat moldable base allows each skater to customize the fit at home without worrying about a bothersome break-in. A strong aluminum Tracer Plate sits underneath, with 57mm Glide Wheels that are nice and soft for outdoor use. ABEC 5 Bearings and an adjustable toe stop (with a locking screw!) round out the components of this stylish and fun skate package.
Chaya Karma Pro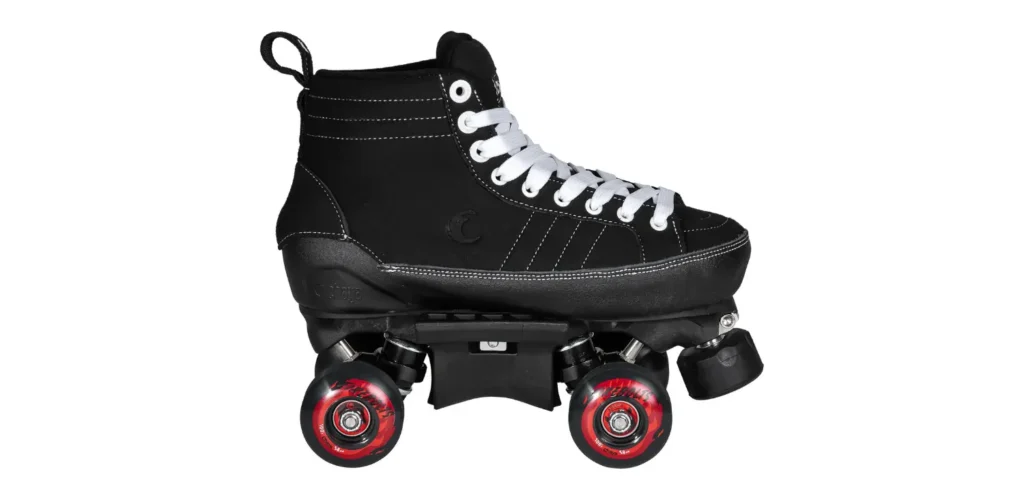 The Chaya Karma Pro Skates are the third generation of Chaya's go-to park skate. The boots are made with a glass-fiber reinforced composite mixed with genuine and nano-leather, which is durable and lightweight. They come with Chaya's Shari Plate, which is mounted onto the boot with the dual-point mounting system. This is a new way of mounting for rollerskates but is familiar to inline skates. They're mounted on two bolts, allowing you to move your plate's position from front to back with a bit of room to adjust the plate from side to side on the front of the boot.
The XTNDR trucks from Chaya are new, strong, and very versatile. They are made of solid forged aluminum and have replaceable chrome steel axles, which are sold in various lengths so that you can customize the width of your wheelbase! The Shari Plate is made of strong glass-fiber reinforced plastic and has pre-installed asymmetrical grind blocks unique to Chaya. The Chaya Controller toe stops are adjustable with a set screw, while the 100A Firebolt Wheels spin on Wicked ABEC-9 Bearings.
Chaya Ragnaroll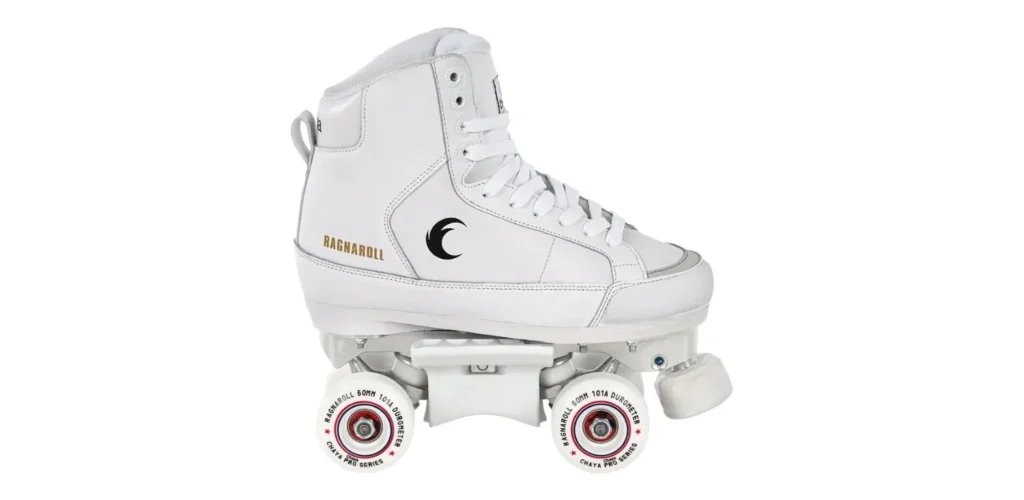 The Chaya Ragnaroll Pro Skates are Ragnaroll's first ever pro-skate! They are an all-white skate and have a vintage basketball shoe look. They are composed of genuine, and PU leather with glass-fiber reinforced p[plastic that will keep them durable yet flexible. The height of the cuff is higher than most Chaya Skates; it's most comparable to the Chaya Jump 2.0 skates.
They come on the new Chaya Zena Plate, made of super strong 6061 aircraft aluminum. Chaya's XTNDR trucks are solid, forged aluminum, and have replaceable axles. They are sold in various lengths so that you can customize the width of your wheelbase and make it your preferred width for any truck grinding. They also have pre-installed asymmetrical grind blocks that are unique to Chaya. The Chaya Controller toe stops are adjustable with a set screw, while Ragnaroll's pro 60mm, 100A Wheels spin on Wicked ABEC-9 Bearings.
Moxi Jack Fuse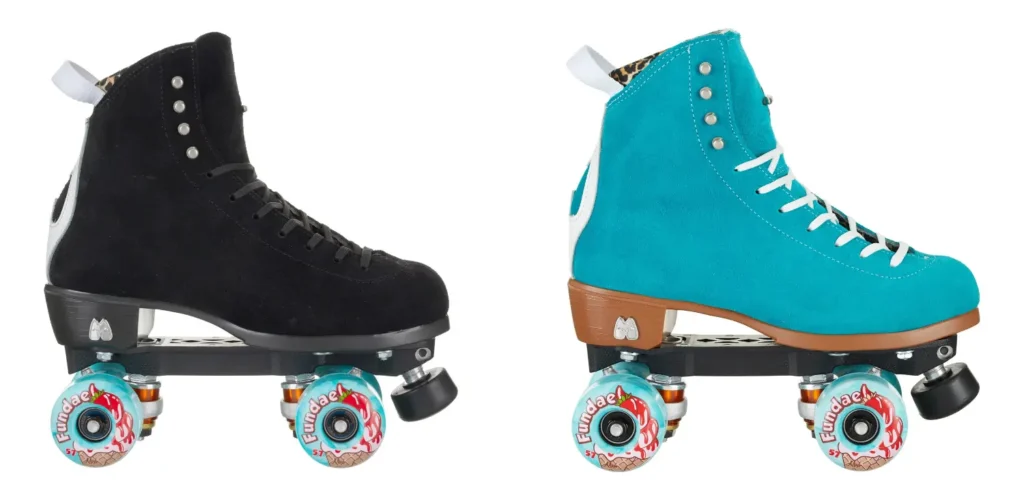 The Moxi Jack Fuse Skates are the perfect setup for all kinds of skating. They are strong, wonderful skates with ample padding, but the Jack boots hit their stride after about 10 hours of break-in. That's when the reinforced suede uppers have shaped themselves to your feet. The heel-locking cushions and the genuine shearling lining on the tongue hold your ankles and forefoot comfortably and securely. The double-layer suede leather is exactly what you need in a park or street setting. If you're in the market for a skate that will last a long time in any condition while feeling and looking fantastic, then the Jack boot has everything you need.
The lace stabilizer, metal hooks, triple reinforced eye stay, and waxed laces appear to be tiny details, but they make the skate even more reliable. Put all of this on a lightweight reinforced nylon plate so that you can feel good taking this skate anywhere. The 57mm 92A Moxi Fundae wheels with ABEC-5 bearings are great for any skating since they are small and hard enough to crush it at the park or skate fast in the streets. Add a grind block to take on any rails and coping, or write your story in your style by customizing their color!

---
The Best GrinD Blocks For Park Skates
Sure-Grip Grind Blocks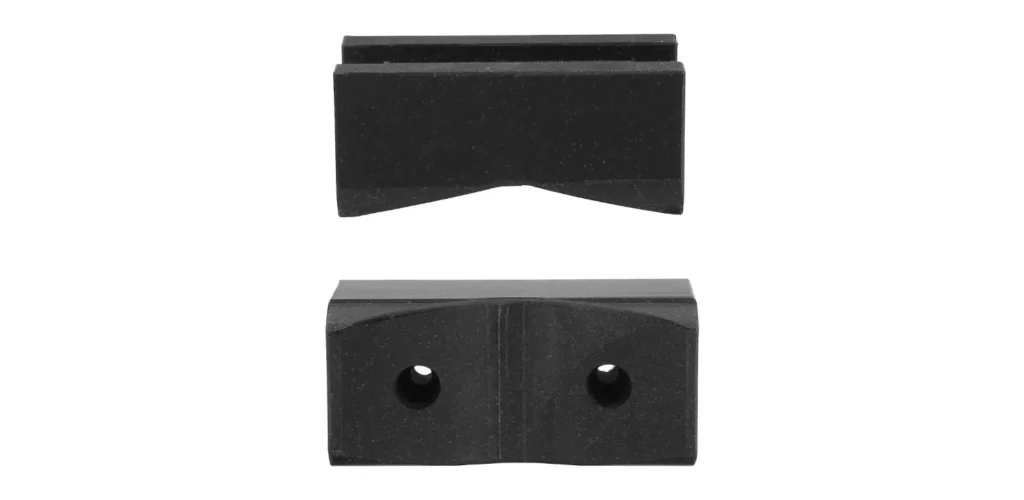 Sure Grip Grind Blocks are specially designed to fit the Avenger and Avanti plates for those skaters looking to enter the skate park scene! These are made from a material called UHMW which creates durable blocks that are designed to help you achieve a similar feel to the traditional aggressive skate soul plate without having to hang up your quads. These will allow you to grind smoothly without putting extra wear on your baseplates! Compatible with Sure-Grip Avenger and Avanti Plates.
CIB Grind Blocks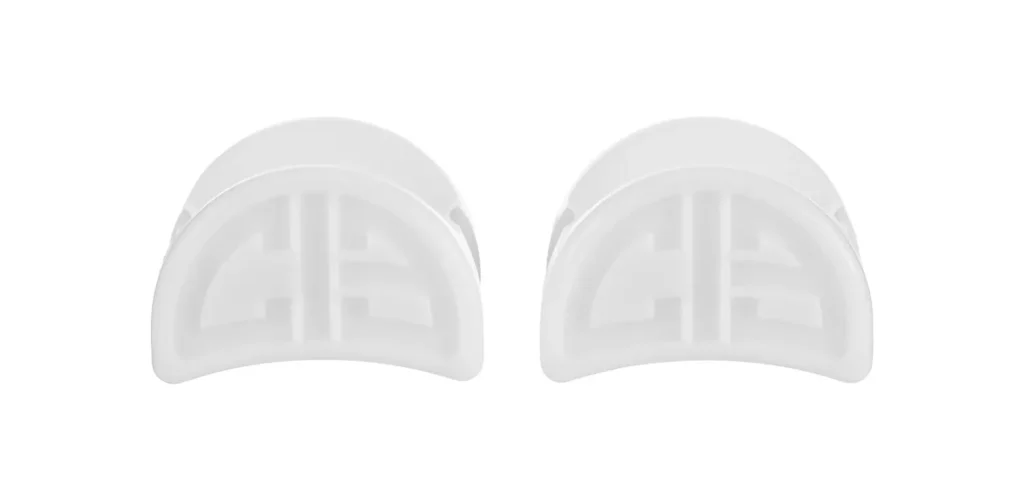 CIB Slide Blocks are made from high-density plastic that slides with ease on coping and rails and also has a U-shaped depression to help balance those stalls and grinds. Easy to install without taking off your plates, these slide blocks are adaptable to many of the most popular plates in use today. Each package includes two pairs of adaptor bars, a silver set for 10˚ plates, and a black set for 20˚ plates, however, these adaptor bars can be bent slightly to accommodate kingpin angles slightly above or below those two standards.
Brunny Hardcore P.O. Blocks / 3056 Slide Blocks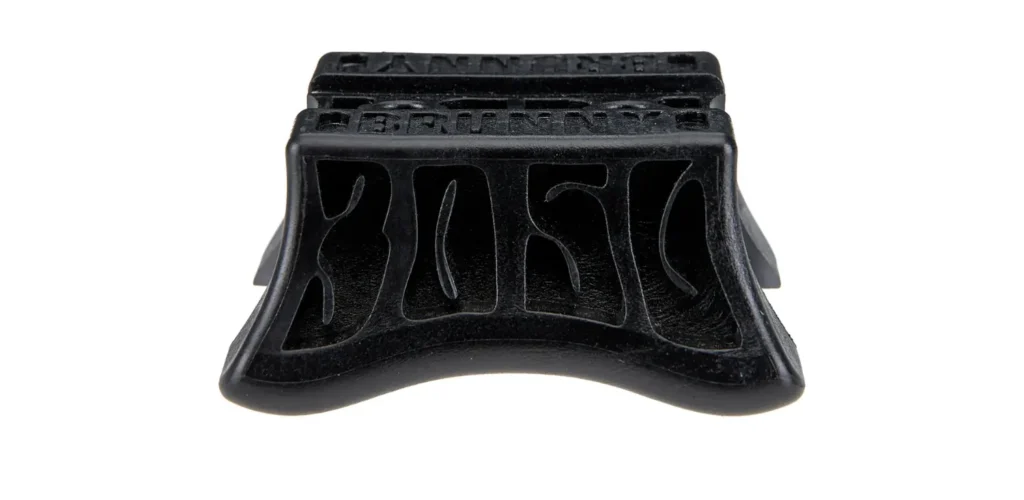 The Brunny Hardcore P.O Blocks aka 3056 slide blocks are not only cute, but they also rip! These blocks are made by talented park skaters that know exactly what they're doing. Made for any level of skater, you don't have to be a pro to enjoy these buttery blocks. They have perfectly designed grooves that increase stability with wider surface areas that move with you. We've witnessed skaters grind fully across rails and coping with ease and so much control. The center groove is pretty deep, which will be helpful for 50/50 grinds or any stalls/slides that include your trucks. The hangers are made to fit 10-degree plates but with some muscle work, they can be bent to suit a 20-degree plate as well. To the touch, they feel so smooth, very firm, and quite light!
Installation instructions: Assemble the slide blocks by placing the mounting bars on top of the blocks, angled upwards and away. Secure the mounting bars with the included hex bolts and lock nuts (the nuts go on top). Next, remove all components from your kingpins. Place the slide blocks first, making sure the mounting bars are flush with the angle of the baseplate (90˚ to the kingpin). You may have to bend the mounting bars slightly to achieve this, but it's important so that your cushions function normally. We recommend leaving off the first cushion retainer, as the mounting bar takes its place and many kingpins won't have the space for both.
---
Recommended Accessories
Pro-Tec Classic Skate Helmet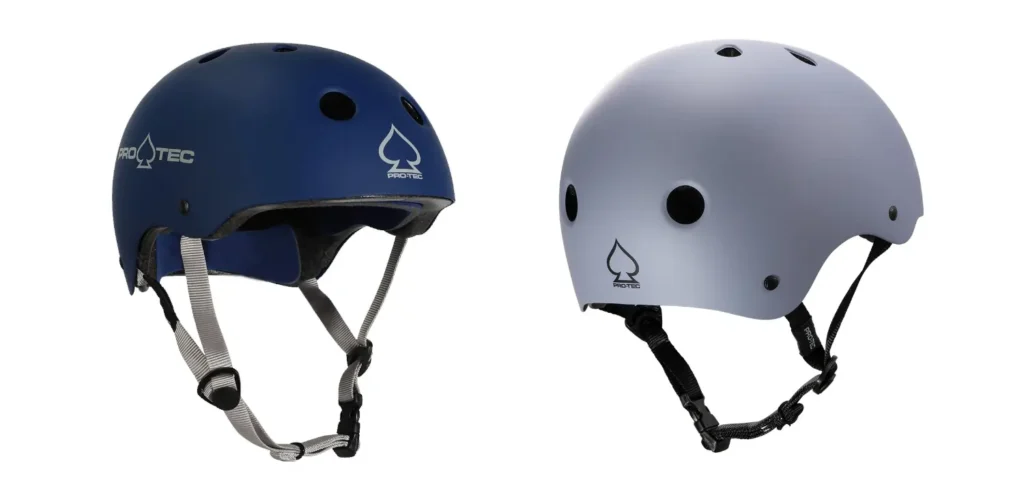 The Pro-Tec Classic Skate Helmet is a professional-grade helmet using a high-impact ABS Shell and an EPS Foam Liner for maximum protection against big falls and multiple collisions. The helmet uses heat-sealed premium pads for improved comfort and 11 open vents to keep you cool. Available in adult and kid sizes.
Ennui Elite Helmet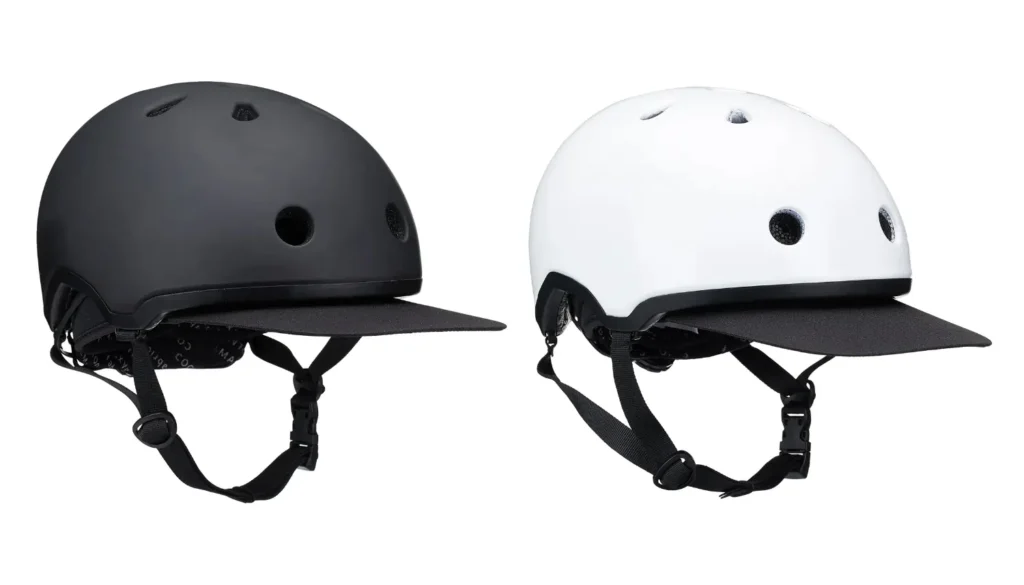 The Ennui Elite Helmet with Peak is an accumulation of years of testing and development to create a low-volume helmet that looks and functions great. Honeycomb technology reduces the wall thickness and weight for a sleek, lightweight, revolutionary fit. Available in black or white.
Triple 8 Sweatsaver Helmet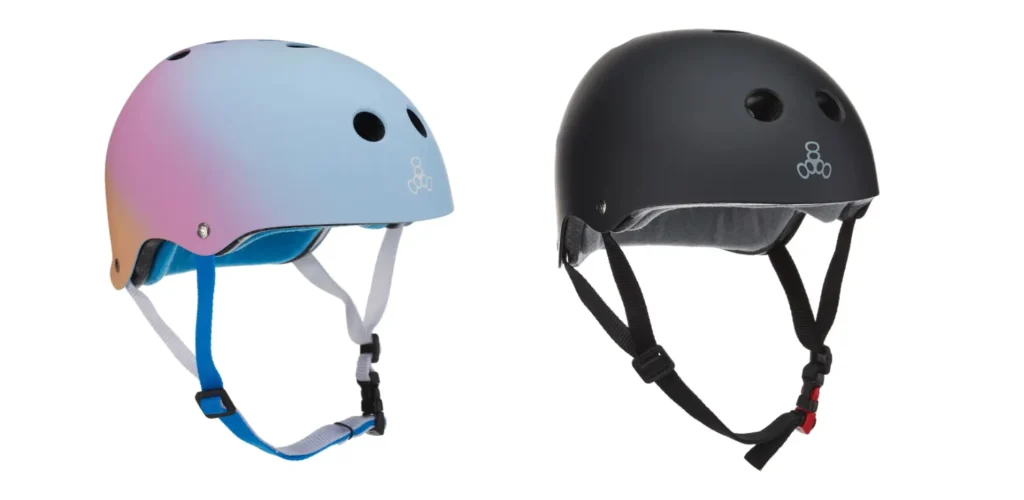 The Ennui Elite Helmet with Peak is an accumulation of years of testing and development to create a low-volume helmet that looks and functions great. Honeycomb technology reduces the wall thickness and weight for a sleek, lightweight, revolutionary fit. Available in black or white.
S1 Lifer Helmet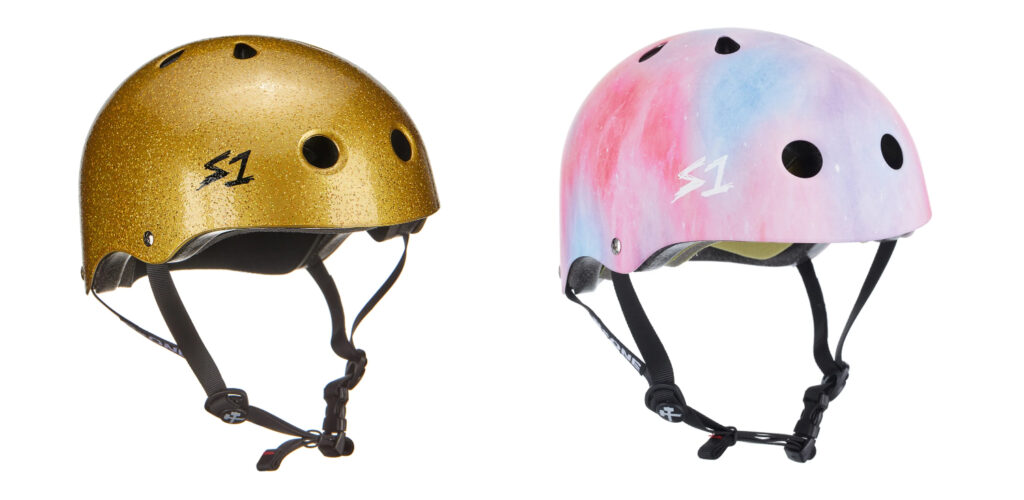 The S1 Lifer Helmet is a professional-grade helmet using a high-impact EPS Foam Liner for maximum protection against big falls and multiple collisions.
Triple 8 Saver Series Pad Set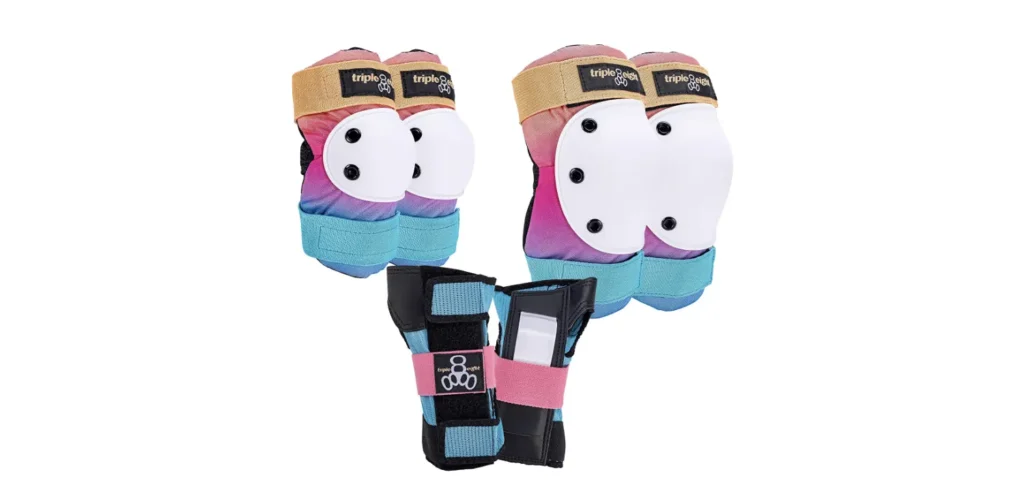 If you want excellent pads at a great price, consider the Triple Eight Saver Series Pad Set with Kneesavers, Elbowsavcers, and Wristsavers. They are available in multiple colors and sizes.
Ennui pads
Ennui All Around Wrist Brace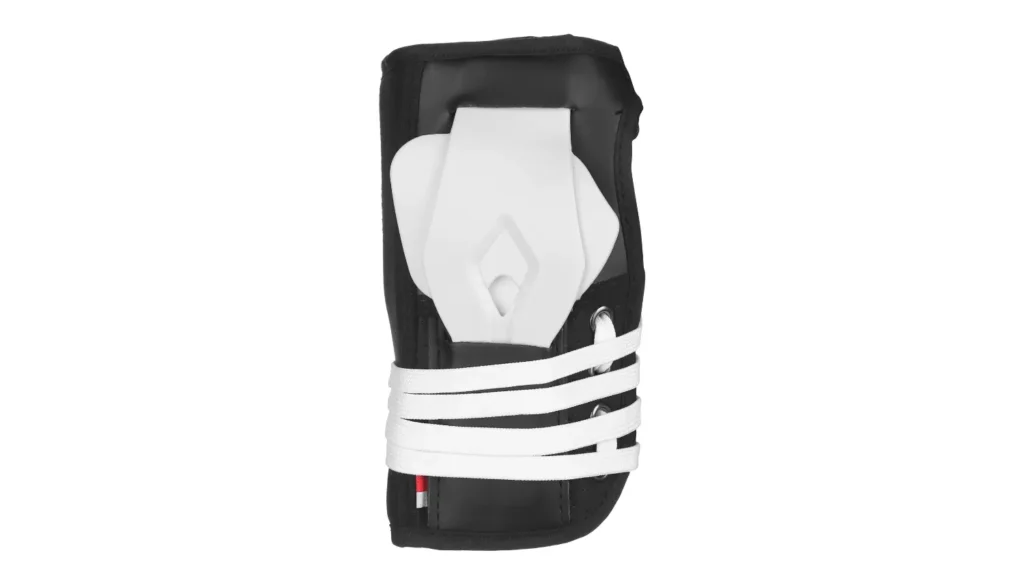 The Ennui All Around Wrist Brace is the ultimate wrist protection, based on medical arm brace technology, that keeps your wrist in an optimal position to prevent injuries and recover more quickly from the ones you can't avoid. Mesh on the side of the guard helps with airflow, and the multi-strap design alleviates pressure points caused by traditional straps. The large slide plate on the palm of the guard is backed with foam to offer ample protection and comfort.
Ennui Street Wristguards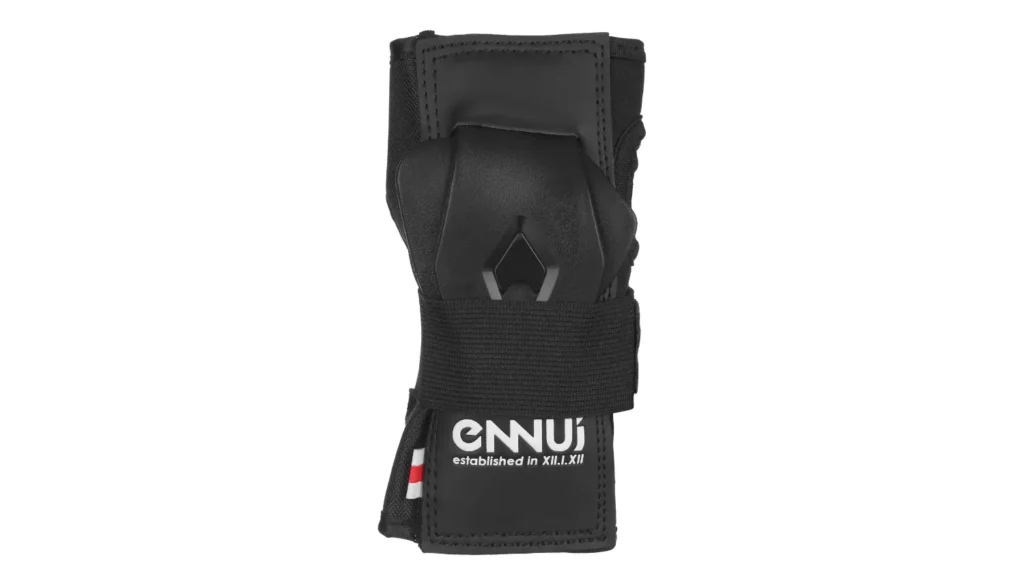 The Ennui Street Wrist Guard features a large slider plate on the palm and an ultra-stiff splint on the back to give top-notch support. The liner features a mixture of neoprene and CoolMax fabric to increase comfort, while three velcro straps keep everything in place.
Ennui Shock Sleeve Knee Gaskets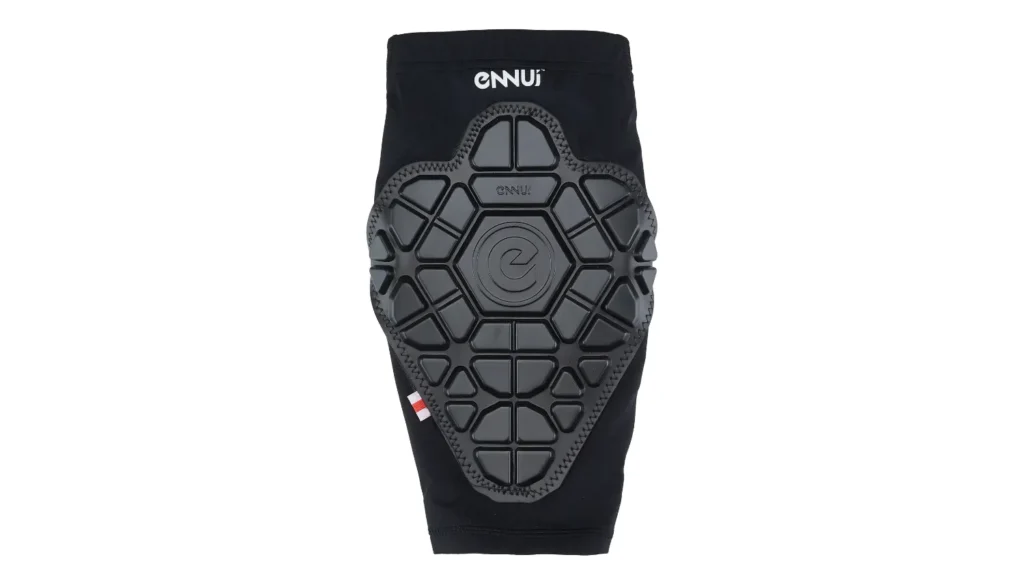 The Ennui Shock Sleeve Knee Gasket slides on and fits snugly around the knee, wrapping it in a spiderweb of 'super foam' that cushions impacts and saves your skin from nasty road rash. Skaters who shy away from the heavyweight protection offered by the much bulkier knee pads on the market will love these gaskets and their lack of restriction. The gasket is mostly polyester, with elastane strips inside at the top and bottom to help lock the pad in place and prevent slippage. Ennui uses MyFit SPC foam coated in thermoplastic rubber (TPR) to provide impact protection. Since this is not a genuine hard plastic cap, higher-impact skating disciplines may seek higher protection levels.
G-Form pads
Pro-Rugged Knee-Shin Guards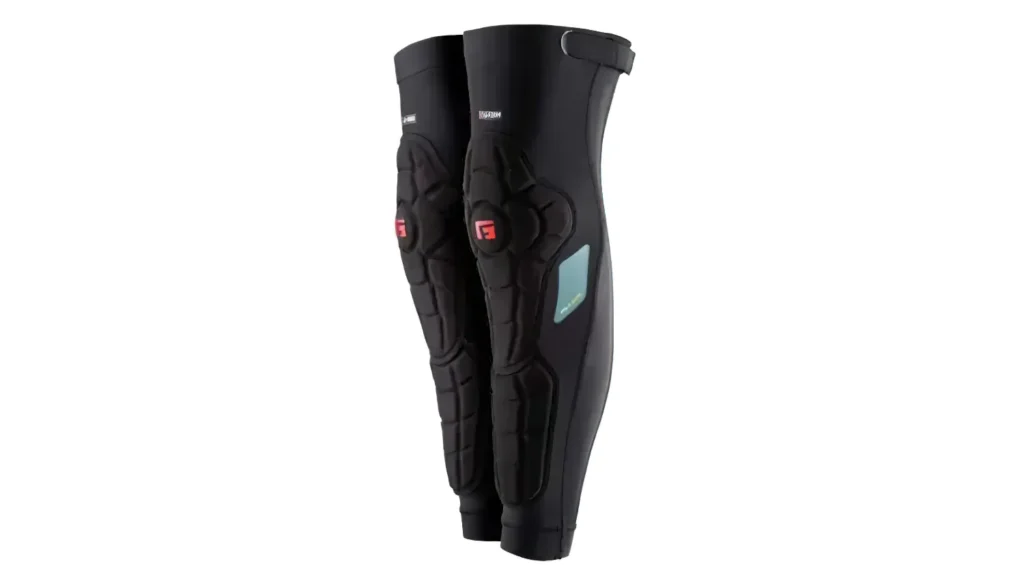 The G-Form Pro-Rugged Knee-Shin Guards are my pad of choice! I've been skating different versions of these for the past eight years, and I love their durability, comfort, protection, and fit. The pads are made with SmartFlex™ — body-mapped, impact-absorbing pads that offer form-fitting and lightweight protection for your knees and shins that is flexible as you ride and hardens on impact. I've taken some really hard falls on these and am positive that I would have cracked my knee and split my shin open on multiple occasions without these.
Pro-X3 Shin Guards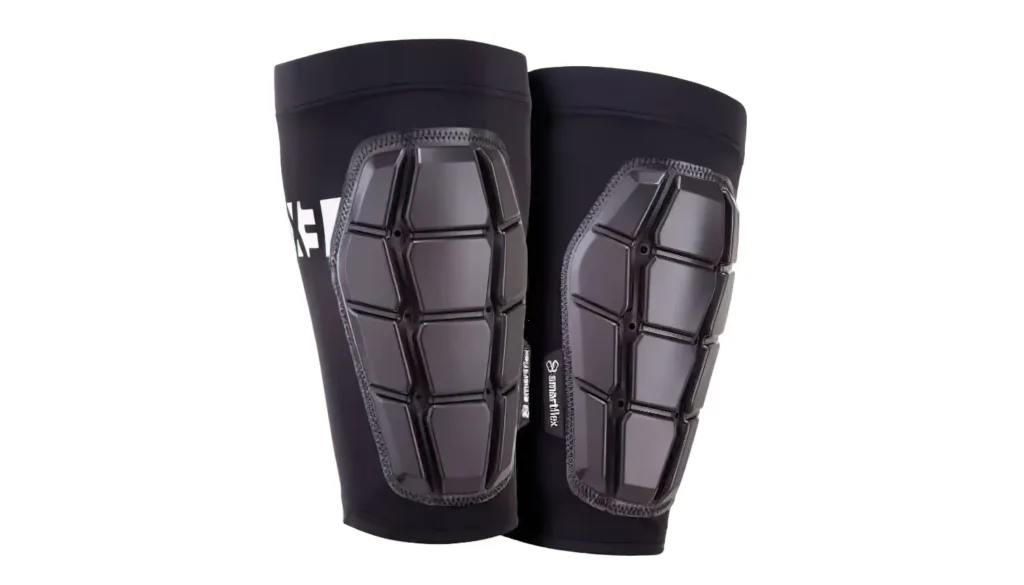 The G-Form Pro-X3 Shin Guards feature SmartFlex™ protection that is flexible as you skate yet hardens on impact in the event of a crash. And SmartFlex pads are fully waterproof, so machine wash them as needed.
Pro-X3 Elbow Guards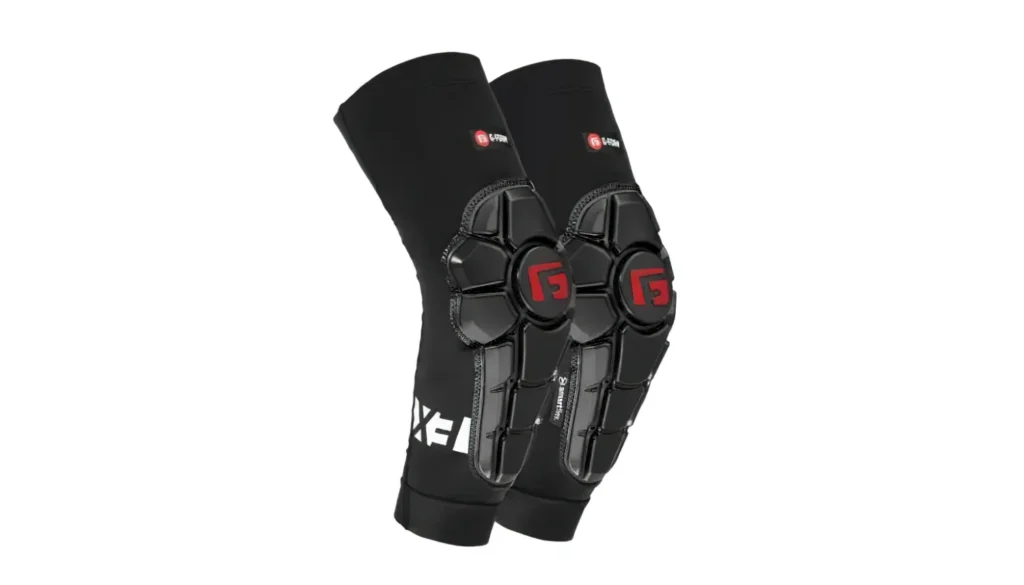 Our G-Form Pro-X3 Elbow Guards offer SmartFlex™ protection that is flexible as you skate yet hardens on impact in the event of a crash. And SmartFlex pads are fully waterproof, so machine wash them as needed.
Pro-X3 knee guards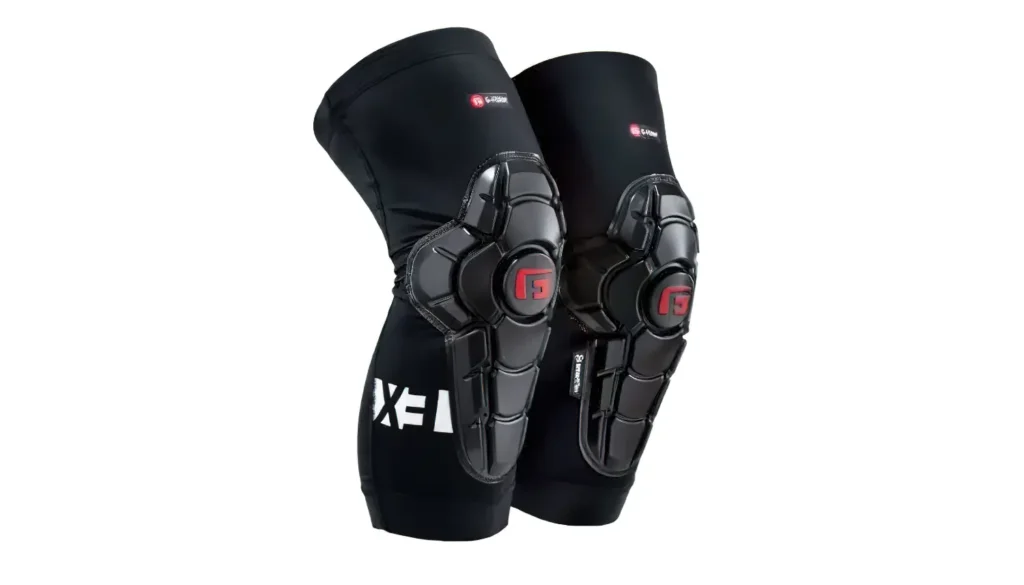 The G-Form Pro-X3 Knee Guards offer SmartFlex™ protection that is flexible as you skate yet hardens on impact in the event of a crash. And SmartFlex pads are fully waterproof, so machine wash them as needed.
SuperFeet Blue Insoles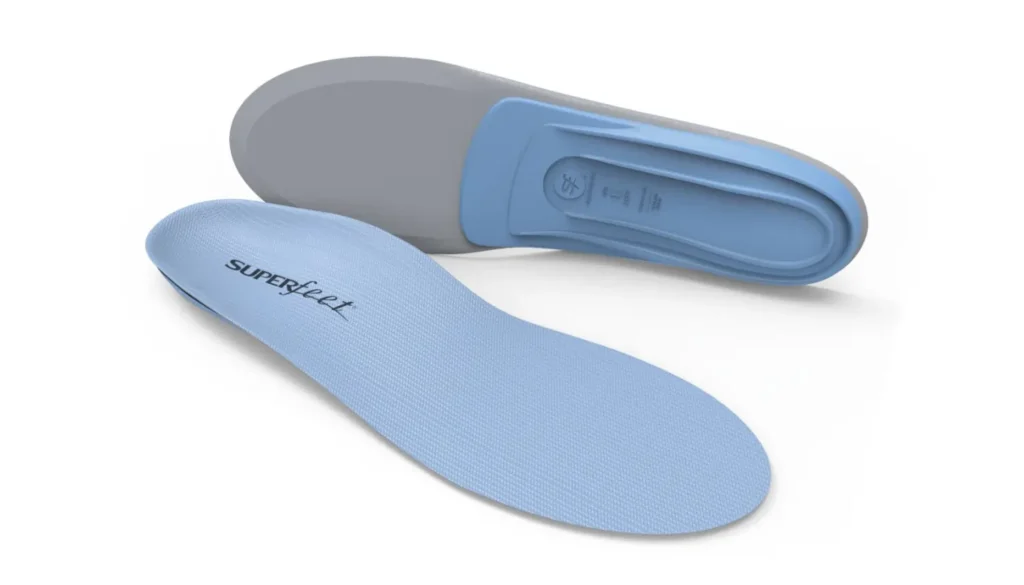 With Superfeet™ Blue Insoles in your skates, your feet feel balanced and supported. The fit of your skates will be more precise, making them more responsive and allowing you to skate your best. Superfeet™ offers a 60-day satisfaction guarantee or your money back! Select the size according to your US shoe size and then trim the length for the perfect fit. Go up one size for wider feet.
Athalon everything boot Bag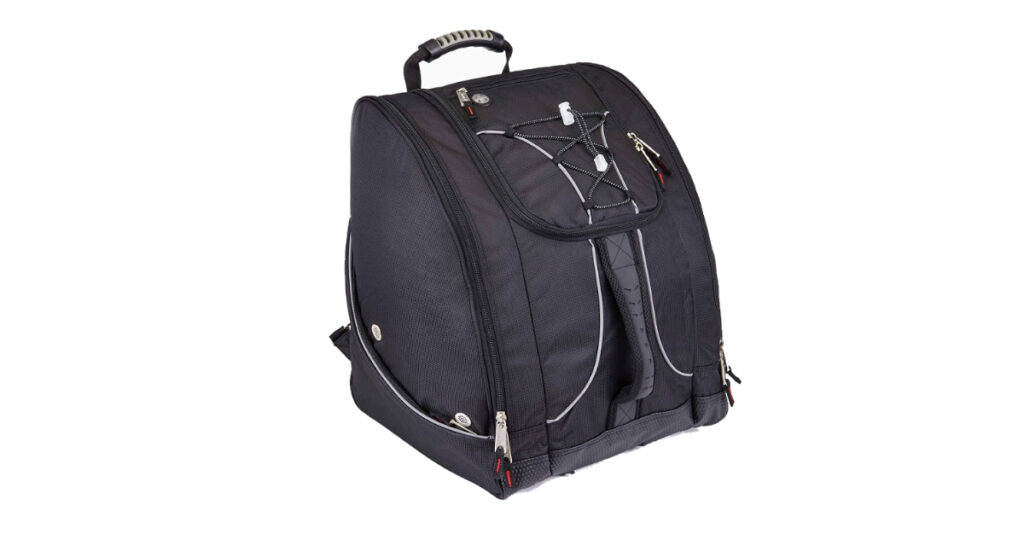 The Athalon Everything Boot Bag is the perfect backpack to keep your skates, safety gear, tools, and accessories organized. This bag is ideal for traveling and has many excellent features. I love this bag so much for my skates that I bought a second one for my ski boots.
Powerdyne Y3 Skate Tool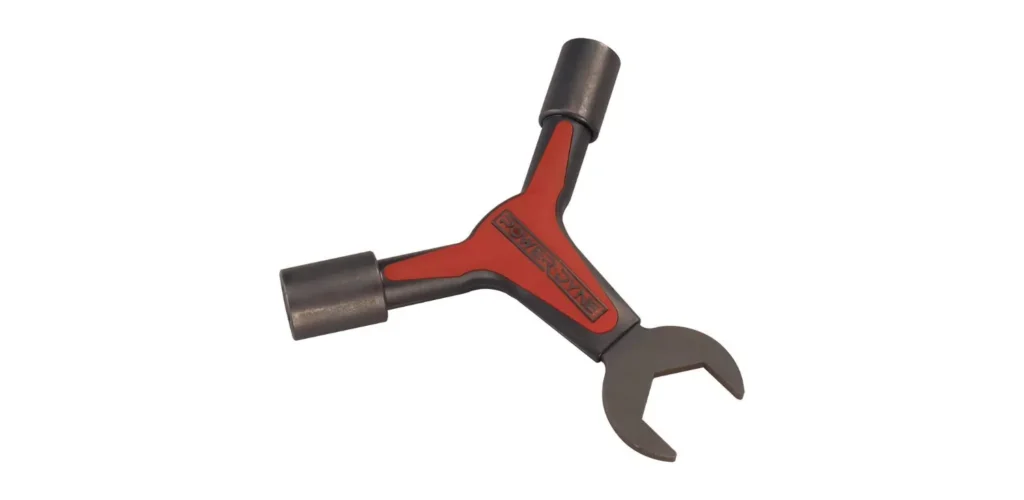 At some point, every skater will have to do skate maintenance. The best tool for the job is the Powerdyne Y3 Skate Tool, which offers excellent leverage to change wheels and tighten bolts on your roller skates. With two different size sockets (1/2″ & 9/16″) and a 15/16″ wrench, it is ideal for tightening standard axle lock nuts, kingpin lock nuts, and toe stops. The compact design of the skate tool fits easily in your pocket, so you can carry it with you whenever you skate. The Powerdyne Y3 Skate Tool makes an excellent gift for any skater in your life, landing them on our list of best gift ideas for roller skaters.
Bont Bearing Press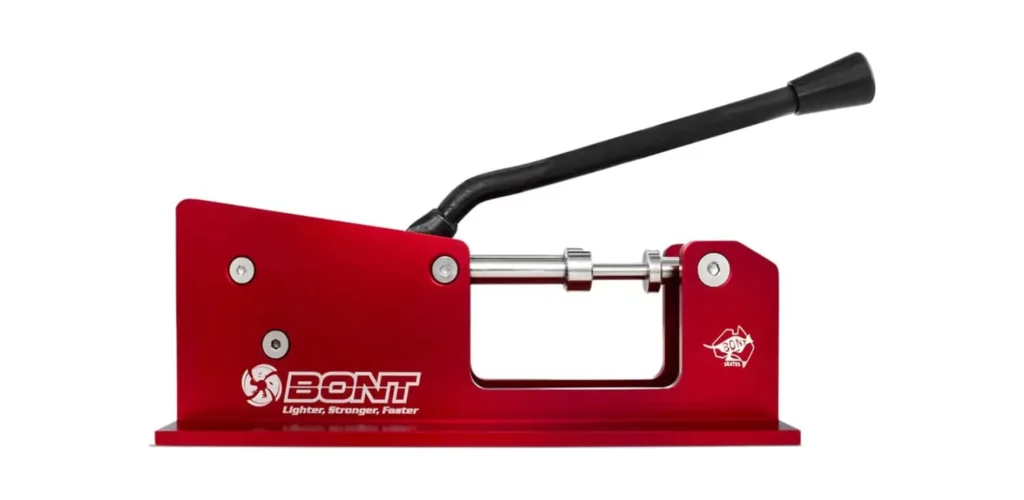 The Bont Bearing Press is a MUST for every roller skater who frequently changes bearings. It is hands down the favorite tool in my arsenal, and it brings me joy every time I use it. One end serves to press bearings into your skate wheels, while the opposite end allows for easy bearing removal. The poll is adjustable and can be used for 7mm & 8mm Bearings.
Roller Skating Guides and Gift Ideas
FAQ
What are roller skates?
Roller skates are footwear with wheels attached to the bottom, allowing the wearer to glide or roll on a surface. They are typically used for recreational activities or as a form of transportation. Roller skates can come in various styles, including quad skates with two sets of wheels on each foot or inline skates with a line of wheels in a row on each foot. Roller skates can be made of various materials such as plastic, metal, or leather and can be used indoors or outdoors. They have been popular since the 18th century and are still used today for fun and fitness activities.
What is the difference between roller skates and inline skates?
Inline skates and roller skates are both types of skates, but with different wheel configurations and purposes.
Roller skates have four wheels mounted onto a truck that attach to the bottom of the skate in a rectangular pattern. They provide more stability than inline skates, making them a good choice for beginners. Roller Skates perform well for indoor roller skating rinks, artistic skating, and roller derby.
Inline skates have a single line of wheels mounted to a frame on the bottom of the skate. They are faster and more maneuverable than roller skates, making them an excellent choice for outdoor activities like distance, freestyle, aggressive, and urban skating. They can also be used indoors on smooth surfaces, but they require more skill to control than roller skates.
Another difference between inline skates and roller skates is the type of skating stride used. With inline skates, the skater uses a skating stride that is similar to ice skating, pushing off with one foot and then gliding on the other. With roller skates, the skater uses a shuffle stride, which involves pushing off with one foot and then bringing the other foot up beside it before pushing off again.
Ultimately, choosing between inline and roller skates depends on your preference and the specific activity you plan to use them for. If someone is looking for speed and maneuverability, inline skates might be a better choice, while someone looking for stability and ease of use might prefer roller skates.
What is the difference between inside and outside roller skates
The main difference between inside and outside roller skates is in the hardness and size of the wheels.
Indoor roller skates usually have smaller, harder wheels that provide less traction on surfaces like concrete or asphalt. These wheels are designed to roll more smoothly and quickly on smooth indoor surfaces like polished wood or tile floors in roller rinks. The harder wheels also make performing spins and other advanced maneuvers on the smooth surface easier.
On the other hand, outdoor roller skates usually have larger, softer wheels that provide better traction and shock absorption on rough outdoor surfaces like concrete or asphalt. The softer wheels provide more grip, making it easier to control uneven terrain. They also help absorb shock from bumps and cracks, making for a smoother ride.
Additionally, outdoor roller skates usually have a more durable and protective boot that can withstand the wear and tear of outdoor use. Indoor roller skates may have a thinner boot that is designed for lightweight maneuverability.
Overall, the choice between inside and outside roller skates depends on the specific activity and the type of surface they will be used on. If someone plans to use their skates mostly indoors on smooth surfaces, indoor skates would be the better choice. If someone plans to use their skates primarily outdoors on rough surfaces, outdoor skates would be a better choice.
What is the best brand of roller skates?
There is no "best" brand of roller skates, as it depends on personal preference and intended use. Here are a few popular brands of roller skates:
Riedell – Riedell is a well-known brand that offers a wide range of roller skates for various disciplines, including artistic, derby, and outdoor skating.
Moxi – Moxi is a popular brand specializing in fashionable and colorful roller skates designed for outdoor and park skating.
Sure-Grip – Sure-Grip is a trusted brand that offers a variety of high-quality roller skates for different skating styles, including quad and inline skates.
Roller Derby – Roller Derby is a brand that offers affordable and durable roller skates suitable for both beginners and experienced skaters.
Chaya – Chaya is a popular brand specializing in recreational and park skates, known for their high performance and durability.
These are just a few examples of popular roller skate brands, but many others are out there. It's essential to choose a brand that offers the features and style you are looking for and fits your budget.
What brands of roller skates should you not buy?
It's not fair to say that there are specific brands of roller skates that you should never buy. However, if you plan on buying skates not featured in this guide, then make sure you do research and read reviews before purchasing skates to ensure you get a quality product that meets your needs.
Here are a few things to look out for when shopping for roller skates, not in this guide:
Poor quality materials – Avoid skates made with low-quality materials, as they may not be durable and can break down quickly.
Incorrect sizing – Carefully measure your feet and choose the appropriate skate size, as ill-fitting skates can cause discomfort and injury.
Lack of customer support – Choose a brand with a good reputation for customer support and offers warranty or return options.
Limited reviews or negative feedback – Look for brands with positive customer reviews and a good reputation in the skating community.
Remember that everyone's preferences and needs are different, so choosing a roller skate brand that works best for you and your intended use is essential.
How to find the proper fit and size of roller skates?
Properly fitting and sizing roller skates ensures a comfortable and safe skating experience. Here are the steps to follow when fitting and sizing roller skates:
Measure your foot: Use a tape measure or ruler to measure the length and width of your foot. Make sure to measure both feet, as one foot may be slightly larger than the other.
Find your size: Use the measurements of your feet to determine your skate size. Skate sizes vary by brand, so you must check the manufacturer's chart for the best size.
Try on the skates: Try on the skates with the socks you plan to wear while skating. Lace-up the skates snugly but not too tight. Your toes should be able to wiggle, but your heel should not lift in the boot.
Check the fit: Stand up and walk around in the skates to check the fit. Make sure your foot feels secure and stable in the skate. There should be no excess space or movement inside the boot.
Check the length: Check the length of the skate by standing up with your knees bent and leaning forward slightly. Your toes should lightly touch the front of the boot but should not be crammed or curled.
Check the width: Check the width of the skate by standing up with your weight evenly distributed on both feet. Your feet should feel snug but not squeezed or uncomfortable.
Make adjustments: If the skates do not fit properly, adjust the laces or other closure systems. You may also need to try a different size or style of skate.
Remember to break in your skates gradually and wear them around the house or on a smooth surface before taking them for an entire skate session. This will help ensure a comfortable fit and reduce the risk of blisters or other injuries.
What are the health benefits of roller skating?
Roller skating is a fun activity that can provide various health benefits. Here are some of the main health benefits of roller skating:
Cardiovascular fitness: Roller skating is an excellent form of aerobic exercise that can help improve your cardiovascular fitness. It can increase your heart rate and breathing rate, which can help strengthen your heart and lungs.
Muscle strength: Roller skating engages various muscles, including the legs, core, and glutes. Skating regularly can help improve muscle strength and tone, especially in the lower body.
Balance and coordination: Skating requires a certain level of balance and coordination, which can improve with regular practice. This can also translate to improved balance and coordination in other areas of your life.
Weight management: Roller skating is a moderate to high-intensity exercise that can burn many calories. Regular skating can help you maintain a healthy weight or lose weight if combined with a balanced diet.
Joint health: Roller skating is a low-impact exercise that puts less stress on your joints than high-impact exercises like running. This makes it a good option for people with joint pain or arthritis.
Mental health: Exercise, including roller skating, can help improve your mood and reduce feelings of stress and anxiety. Skating with friends or in a group can also provide a social outlet, further improving mental health.
Overall, roller skating is an enjoyable way to improve physical and mental health. It's a low-impact exercise that people of all ages and fitness levels can enjoy.
LINKS
SUPPORT ON PATREON
If you enjoy the articles and content on bigwheelblading.com and want to see more, consider becoming a Patreon supporter. Your patronage will help me continue creating new and unique content. patreon.com/bigwheelblading